ART THERAPY - HOW TO USE ART THERAPY
WITH OTHERS, WAS £199 - BUY NOW £50
This self paced online course will show you how to benefit from art therapy
and the therapeutic process of creating art
---
We Are One Of The World's Leading Providers Of Arts Therapy Courses, With More Than 180,000 Students In 192 Countries

---
Fully Accredited Diploma Course

Gain CPD / CE Credits

Full Tutor Support 365 Days

Access To Exclusive Community

Resources For Professionals

Compatible With All Devices
---
Example of Certificates

---
Here's Just Some of the Things We'll be Covering in this Art Therapy - How to use Arts Therapy Online Course:

Using art therapy to explore Imagery and dreams

Combining art therapy approaches

Supporting the ageing process with art therapy

Mental health and art therapy

Working with children using art therapy techniques

Colour therapy perspectives

Developing a broader understanding of art therapy

The practical application of art therapy techniques

Beating mental blocks using art therapy

Helping others to manage stress and anxiety with art therapy

Avoid over interpretation

Identity issues

Authenticity, creativity and recovery

Providing a context for art therapy
---
---
Suitable For All, as no Prior Experience or Knowledge is Required

Lifetime Access With Everything Included in the Price

Over 48 Lectures and 30 Downloadable Resources

Private Invitation to Join Our Exclusive Community

Full Tutor Support 365 Days

Compatible With All Devices
This Course Includes Membership to our Private Online Community

Here's some examples of our students' artwork. They were created
from various activities and exercises featured in the course
and shared in our private online community.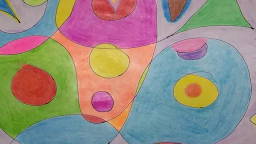 ---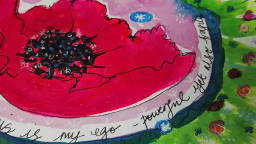 ---
Art Therapy - How to use Arts Therapy Online Course Overview
---
Art Therapy With Others is for everyone, whether you're an individual who uses therapeutic techniques associated with drawing and painting or you're a professional who uses therapeutic techniques associated with the arts.  Art Therapy With Others looks at how to use art therapy, in an array of settings to enable healing, peace and harmony to ourselves and/or our clients.  Art Therapy With Others is also suitable for children and people who work with children.
This how to use arts therapy course focuses on using art therapy techniques, when working with other people.
As well as professionals using art therapy within a therapeutic setting, the course is ideal for individuals wishing to use the course as a self help model.
Students enrolling on the course will have exclusive access to a private online art therapy community where you can share and support one another as you journey together using art therapy to heal, grow and explore facets of your personality.
This self paced course offers the convenience and flexibility of online learning with all the benefits of one to one tutoring, including unparalleled support 365 days a year.
All of our courses are fully accredited with the CPD Standard Office, a globally recognised professional body.  Along with accreditation, on completion of your course, you'll also receive 10 hours of CPD / CE Credit and a Diploma.
Absolutely everything is included in the cost of this art therapy course. The only other thing you'll need is an internet connection and some basic art supplies, such a paper and pens.
Explore your personality through a range of techniques

Alleviate symptoms of depression

Manage stress and anxiety

Enjoy creating art without being judgemental

Build your confidence and self esteem