Art Therapy - A Student's Perspective - Buy Now £199
This self paced online course will show you how to benefit from
art therapy and the therapeutic process of creating art
---
We Are One of the World's Leading Providers of Arts Therapy Courses, With More Than 180,000 Students in 192 Countries

---
Example of Certificates

Fully Accredited Diploma Course

Gain CPD / CE Credits

Full Tutor Support 365 Days

Access To Exclusive Community

Resources For Professionals

Compatible With All Devices
---
Here's Just Some of the Things We'll be Covering in this Self Paced Online Course; Art Therapy - A Student's Perspective

Maslow's Hierarchy of Needs

Zendoodle art

Painting your emotions within an art therapy context

Aestheometry

Spontaneous image diaries

Vision boards

Gratitude Mandalas

Healing writing

Creating your own superhero

Build on your confidence and self esteem

How to create art without judgement

Use art therapy for the purpose of meditation and relaxation
---
Suitable For All, as no Prior Experience or Knowledge is Required

Lifetime Access With Everything Included in the Price

Over 70 Lectures and 69 Downloadable Resources

Private Invitation to Join Our Exclusive Community

Full Tutor Support 365 Days

Compatible With All Devices
---
Art Therapy - A Student's Perspective Online Course Overview

"Art Therapy: A Student's Perspective" is suitable for everyone.  Whether you're a beginner or a professional who already uses art therapy in their practice, this art therapy course will equip you with the latest art therapy techniques, plus a ready-made toolkit of resources and worksheets, all of which can be personalised by uploading your own logo.
This is just one of the many reasons why this art therapy course is an ideal choice for those wishing to use art therapy techniques with their clients, either on a one to one basis or in group settings, including teaching.
In this art therapy course, we'll be looking at the unique interpretations of almost sixty students worldwide.
As well as professionals using art therapy within a therapeutic setting, the course is ideal for individuals wishing to use the course as a self-help model.
As part of your art therapy healing journey, you'll have exclusive access to a private online art therapy community where you can share and support one another as you journey together using art therapy to heal, grow and explore facets of your personality.
A student's perspective offers the convenience and flexibility of online learning, with the benefits of one to one tutoring, including unparalleled support 365 days a year.
Learning with us, you'll be fully accredited with the CPD Standard Office, a globally recognised professional body.  Along with accreditation, on completion of your art therapy course, you'll also receive 10 hours of CPD / CE Credit and a Diploma.
Absolutely everything is included in the cost of this art therapy course. The only other thing you'll need is an internet connection and some basic art supplies, such a paper and pens.
Explore your personality through a range of techniques

Alleviate symptoms of depression

Manage stress and anxiety

Enjoy creating art without being judgemental

Build your confidence and self esteem
Example of our Student's Artwork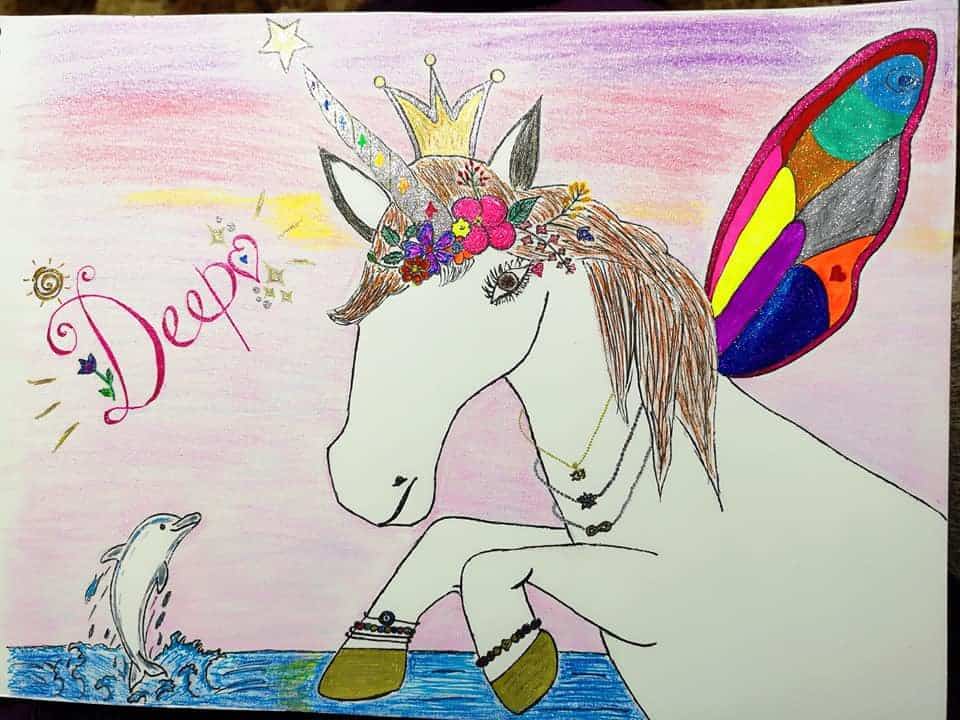 ---
I thought that i was rubbish at art! I don't think that anymore. It's not that my artwork is any better, it's more a case of being aware of the therapeutic process afforded by creating or simpler still, just colouring-in, doodling and much much more. Enrolling in this art therapy a student's perspective course, has been the best and most positive thing i've done in a long time, and i love it.
 
 
E Foad
15 SEP 2017, 14:42