Student Stories - By Yvonne Ivey
---
Yvonne Ivey - "My Art Therapy Wall"
---
My Art Therapy Wall - By Yvonne Ivey
---
I would like to explain the reason behind my therapy wall in my yard.
Many people suffer from depression and anxiety in the community.  Many hide away feelings than can trigger turmoil and stress in life.
This is what I have done for many years, and for many years, shed many tears, along with confusion with my emotions.
Art therapy can help us to understand more about our emotions and ourselves, with deeper emotions being reached via therapy.
It is these symbols that we draw or doodle, that have meaning; far more than we know.
Each of the symbols in the therapy wall is an emotion that has been held on to, and has caused much suffering inside.
---
I feel that now, I have reached some of my feelings this way, I feel more at ease inside, and not that tangled ball of wool that was scattered everywhere.
I have found by using art therapy in my life, it has given me strength and courage, and that hope, to go onwards in my life.
I wanted to raise the awareness in the community, and depict what it is like for a person who carries these deep feelings around.  I wanted to show how we can overcome our emotions in this way; through the process of using art.
Many of the community may suffer in the silence of social inclusion at times that causes a person to cut themselves off to society.
---
---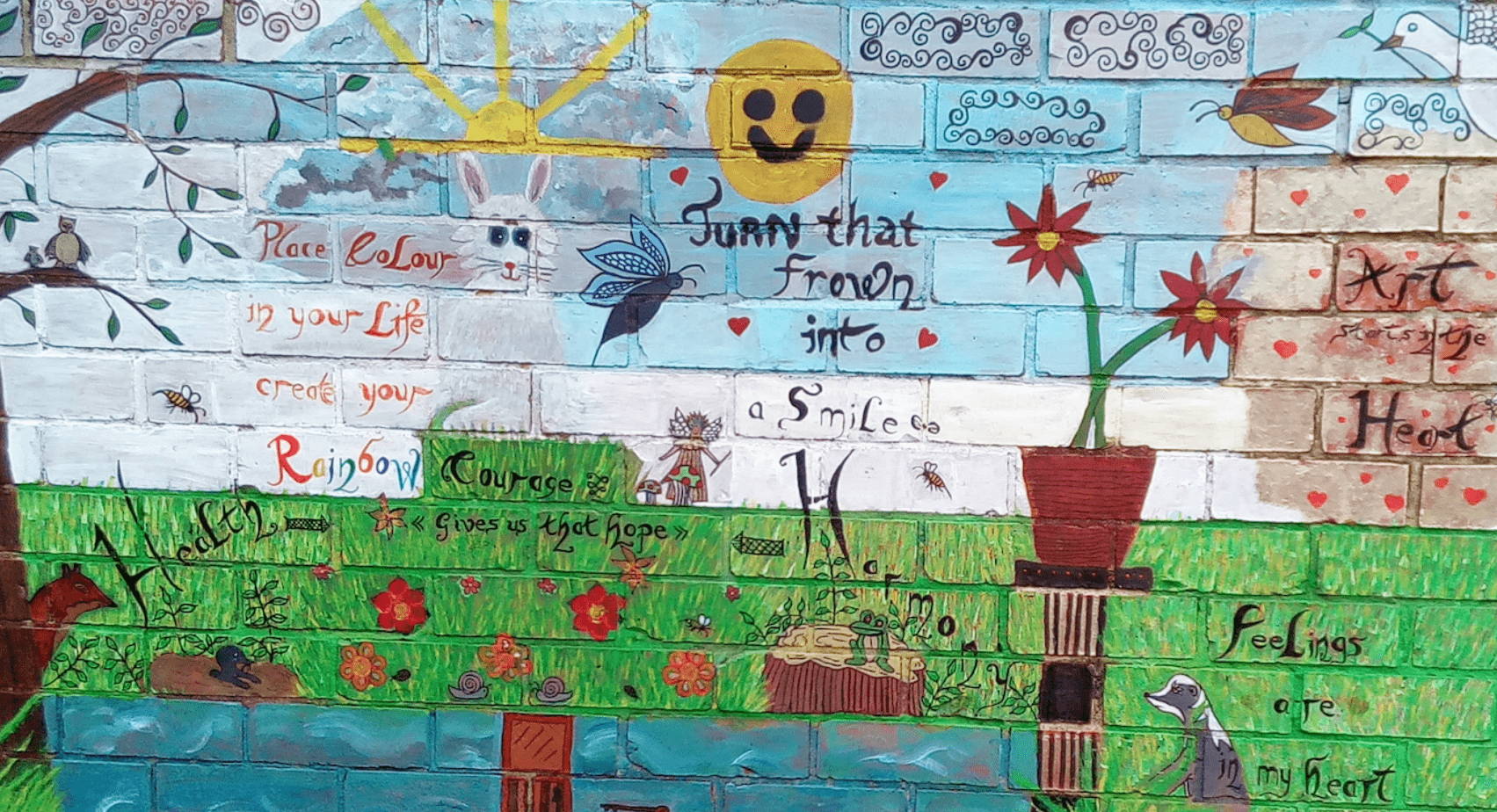 It is because of being misjudged and stereotyped as mental ill health …………. Who do not understand the concepts of anxiety, depression, stress, social anxiety and the ways that illness like this can affect our health.
So I painted the therapy wall on my shed wall, for all in the community to see, so that this could act as a visual education.
I would also like to say that I included six bees in the painting and twenty two hearts, along with the word of "love", with the dove that is painted above the hearts.
To show how important this means for a community to work together and focus upon, health, harmony and hope for those who need support in any type of way.
Supporting understanding and love, helps us to be better people and move forward towards a brighter future.
I included the bees and hearts for those lost their lives at the concert on the 22nd May 2017. Six people from the North East of England died in the terrorist attack in Manchester, so in remembrance of these people and their families, I wanted to do that.
This sad tragic event made me cry and thought this is not right, we must encourage unity in our communities and learn to understand one another. Encourage love and support and to wipe away the negative ways of people being misjudged or misunderstood, that leads to decay.
We need positive, outstanding ways for now and for the future years, to stand and make a difference that raises these issues and better standards that are fairer and more supportive in nature.
May I thank my mentors, my friends and family who encouraged me to do this project. Also Libby Seery, Karbon Homes, Just For Women, the Crisis team and the police too. All have understood, and given support without judgement.
---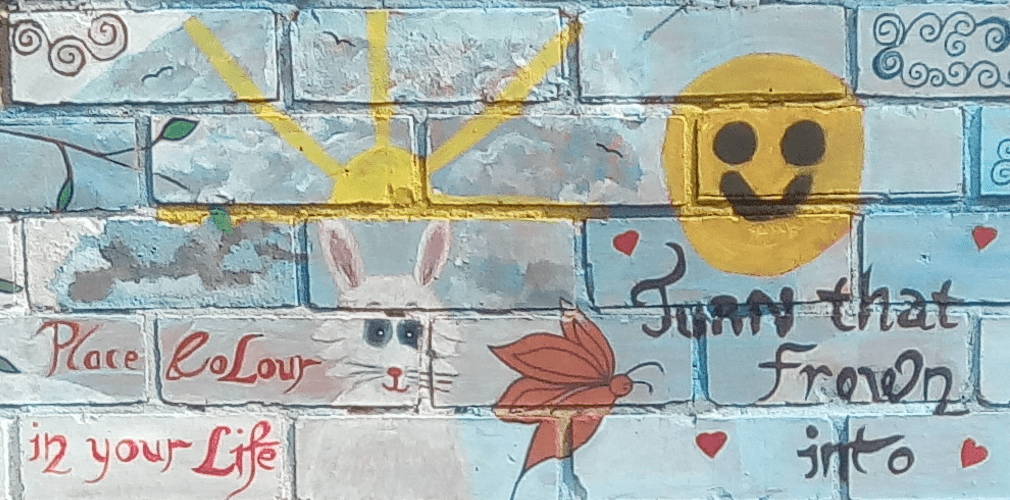 I have always had a deep connection with the countryside, this is the reason why I decided to do a woodland theme, depicting beauty and colour.  Without this, everything would be dull and dismal.  The countryside should be protected and the beauty kept, so other generations can see it.
Remember the famous artists who created landscapes; they captured that beauty forever.  Yet, now some of our beauty spots have gone from our sight.
Always create the beauty of the earth, of which it supports.
---
Listen to Yvonne speaking about her "Art Therapy Wall" with host, Alan Robson, from Metro Radio, UK.


---
Yvonne shares with Alan's listeners, the importance of raising mental health issues within the community, and why she created the Art Therapy Wall. Click on the cloud below and listen to Yvonne's student story about her "Art Therapy Wall"
---
I am a person who loves art and the values that art can give to a person.  It uplifts the spirit and gives confidence as well as inspiring our minds .
I live in the North East of England known for our friendly warmth, and countryside of outstanding beauty.
I love nature. I believe it brings beauty to our eyes and allows us to heal our hearts and mind. Art and nature go together, creating wonderful vibrations, allowing inspiration to flow to create that masterpiece.
Through art therapy, my confidence has been given a boost. I now work as a volunteer youth leader with children at a young persons club, doing art and crafts once a week. It is my job to teach the skills needed, and allow the children to create their own work.
---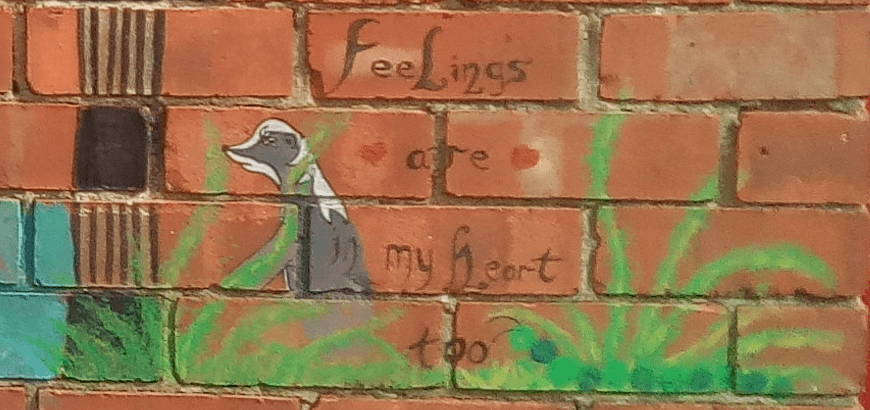 I'm now an administrator and moderator for the Art Therapy Now community and website. I am responsible for helping to run the community on a day to day basis, ensuring that everyone has a warm welcome.
It is incredibly important for me to make sure that all our students and members feel they are part of something special when they join the group. The ethos of our amazing community is to provide an inclusive environment that is both supportive and nurturing, and a place where every single person feels valued and respected.
---
In keeping with the spirit of the group, I now create "Weekly Projects" which are a series of short creative assignments designed specifically to encourage and promote a sense of sharing, as well as the opportunity to inspire one another.
This gives me more confidence to do my art, and to see other peoples' art from all around the world.  What's so wonderful about this is just like me, they also love expressing themselves through the creative process to achieve healing through art.
More of My Artwork
Here's just some of the art I've created since being a student of Libby's, and having studied all five of her Art Therapy courses.
---