FIDELINA LÓPEZ
---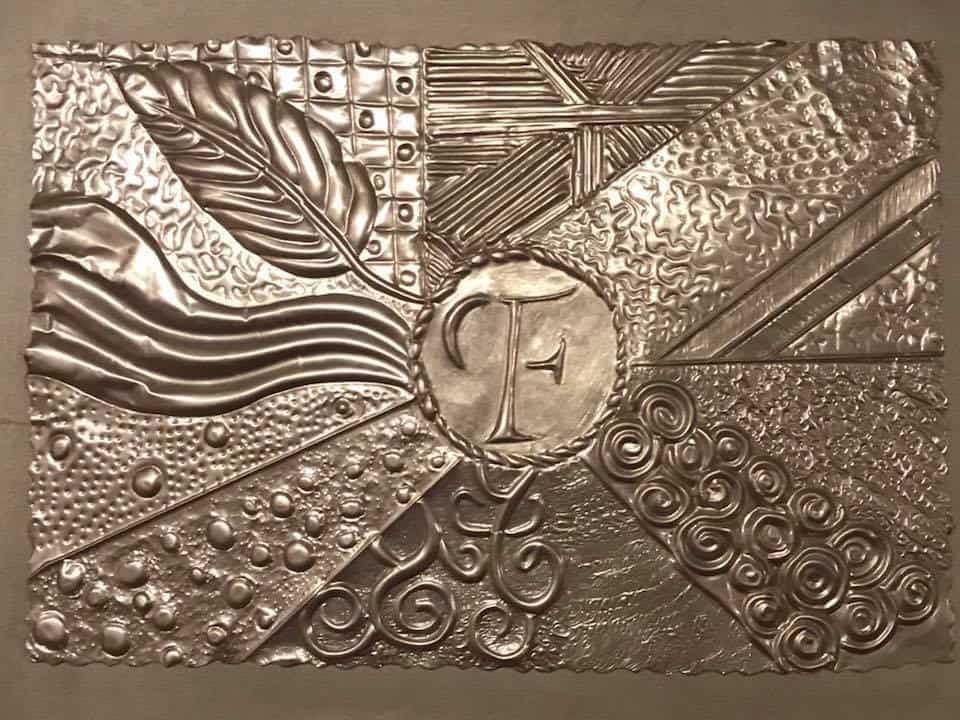 CONGRATULATIONS TO OUR COMMUNITY PROJECT WINNER
---
---
---
About The Project…..
Upon enrolment of our courses, all of our students are invited to be part of our exclusive Art Therapy community.  Here is where you can share and support one another as you experience your own Art Therapy journey.
This weeks community project was titled:  "Create A Decorated Letter"
Instructions For Completing The Project:
Using the first letter in your name, decorate it as you wish, using any type of lettering or medium.
After being voted the winner by her classmates, we invited Fidelina, to share with us, her own art therapy journey and her experience of studying with us.
Artist name:  Fidelina López
My journey as an artist:
Art for me is a way to relieve stress and get away from everyday worries. I have always loved painting and I took several classes in school. About 7 years ago, I became interested in embossing and I was lucky enough to meet an artist who taught me this art. We became great friends and we often share ideas for projects.
Title of your artwork:
"Creative Flow"
What was your inspiration behind your winning piece?
I always like to learn new things so about a year ago I started learning about zentangles and doodling. I got the idea to use this technique and embossing the design.
What's your favourite medium and style of art?
I really love embossing and I like Frida Kahlo's style of art.
Courses I'm enroled in:
– Art Therapy for Self Healing
-Art Therapy for Self Exploration
VIEW OTHER STUDENTS ARTWORK RELATED TO THIS PROJECT
---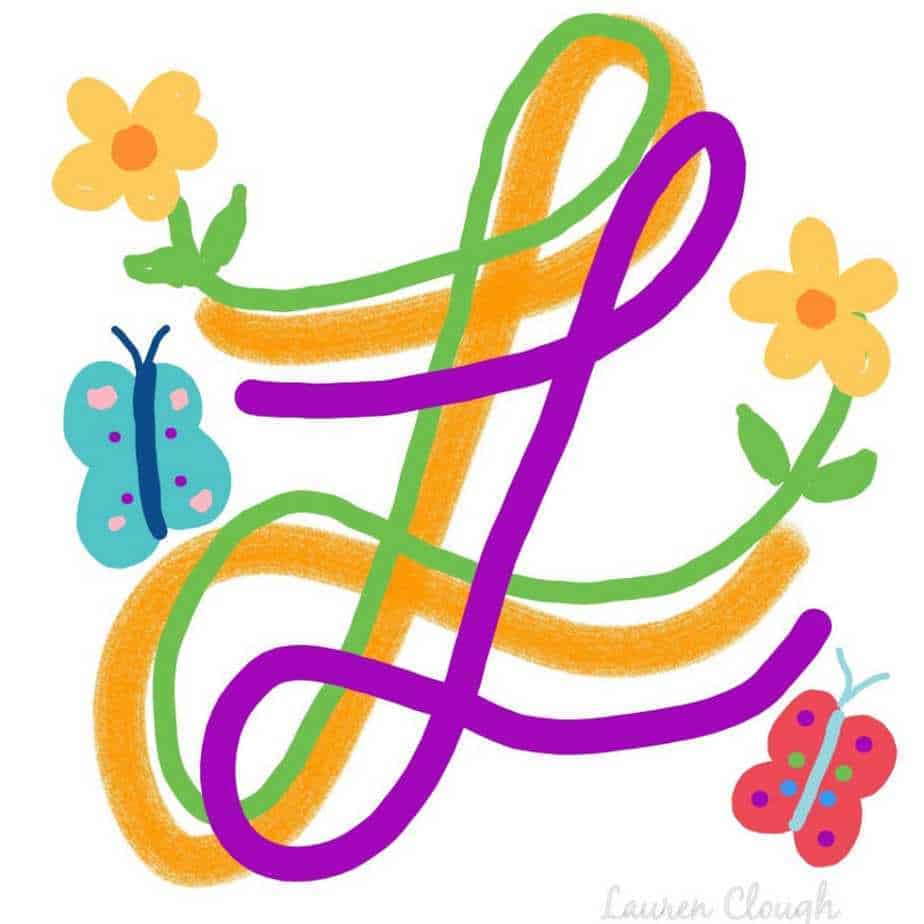 Lauren Clough
L is for Lauren.
---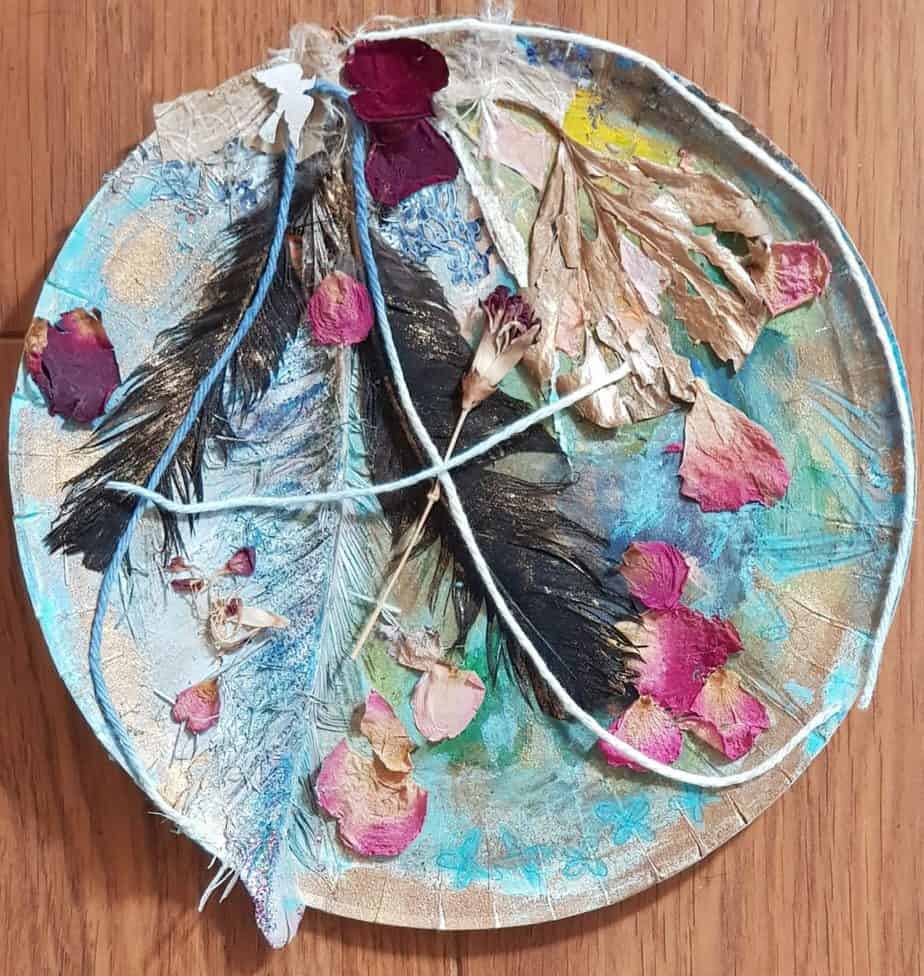 Amy Syrad-Hardy Llewellyn-Smith
Using feathers, petals, a leaf with paints, and other materials to texture and create the Letter A, using wool as the clear outline, on the base of a paper plate with a mix of 3 watercolours using my hands to cover the background. I found this really comforting, using natural things found out on a Walk and in my creative head space, feeling in line with the part if me& my love and the healing of nature, of creating a natural / nature style of Art – my outcome for this week's project to design, to create a Letter of our first name: A.
---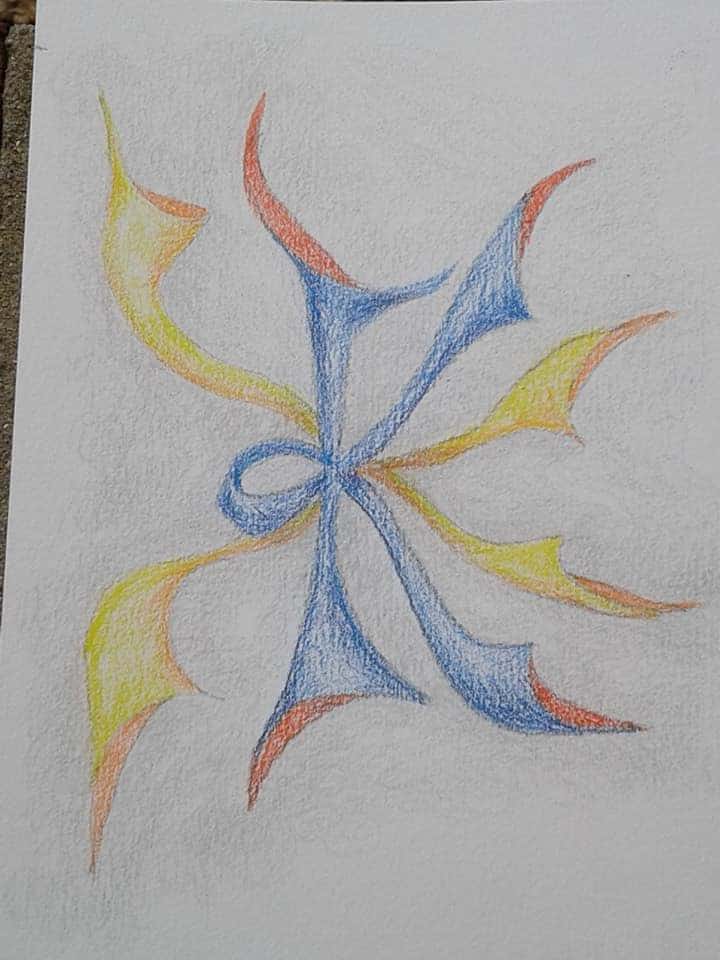 Kathy Szeszol
This is my K. When tuned on it's side it becomes my Angel muse. I used colored pencils, but one day I will make it into a copper pendant.
---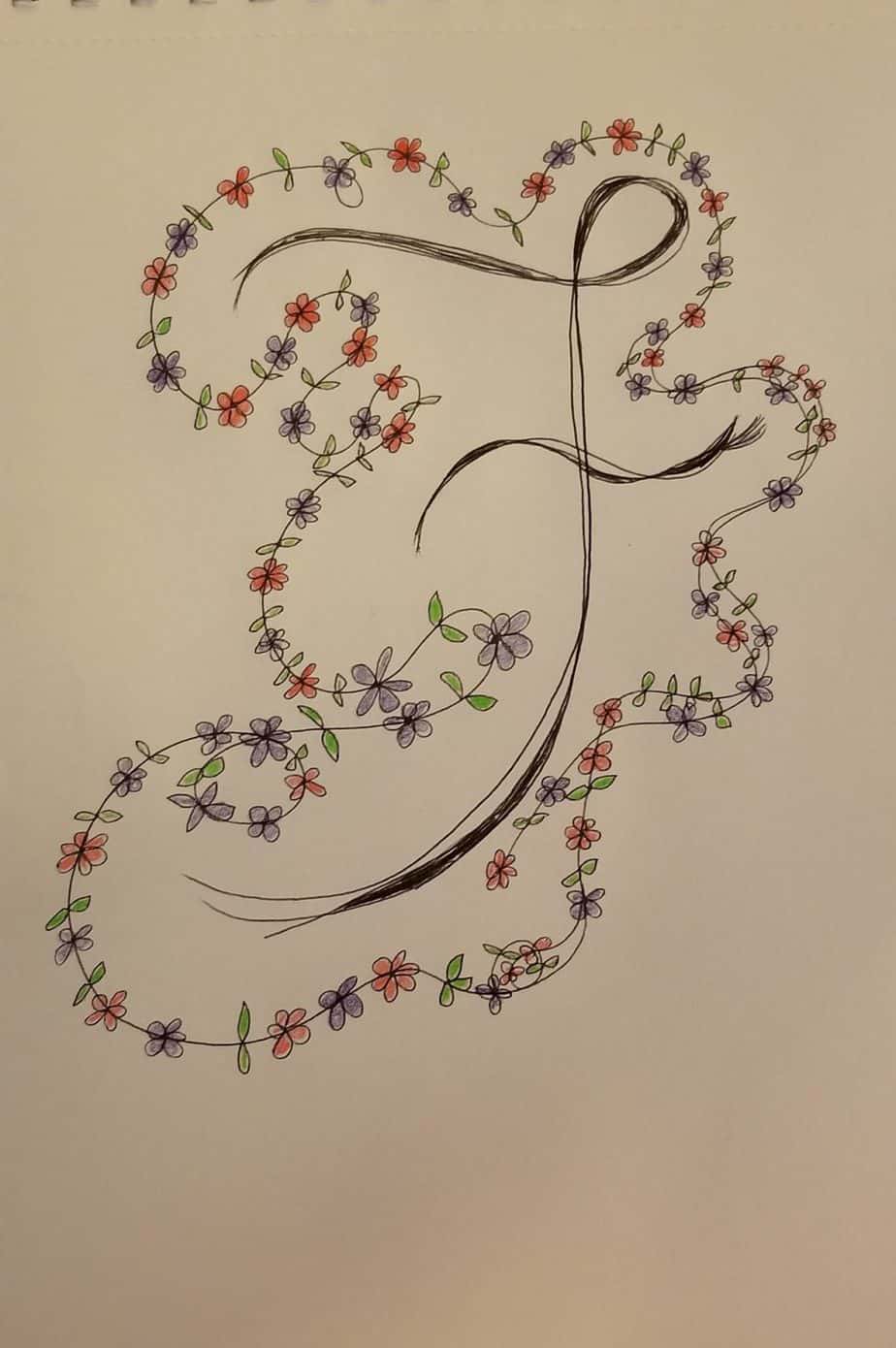 Frances Raptopulos
I love to draw flowers and feel they represent fields and meadows of flowers which are free. Frances means "freedom." So I feel that fits perfectly together.
---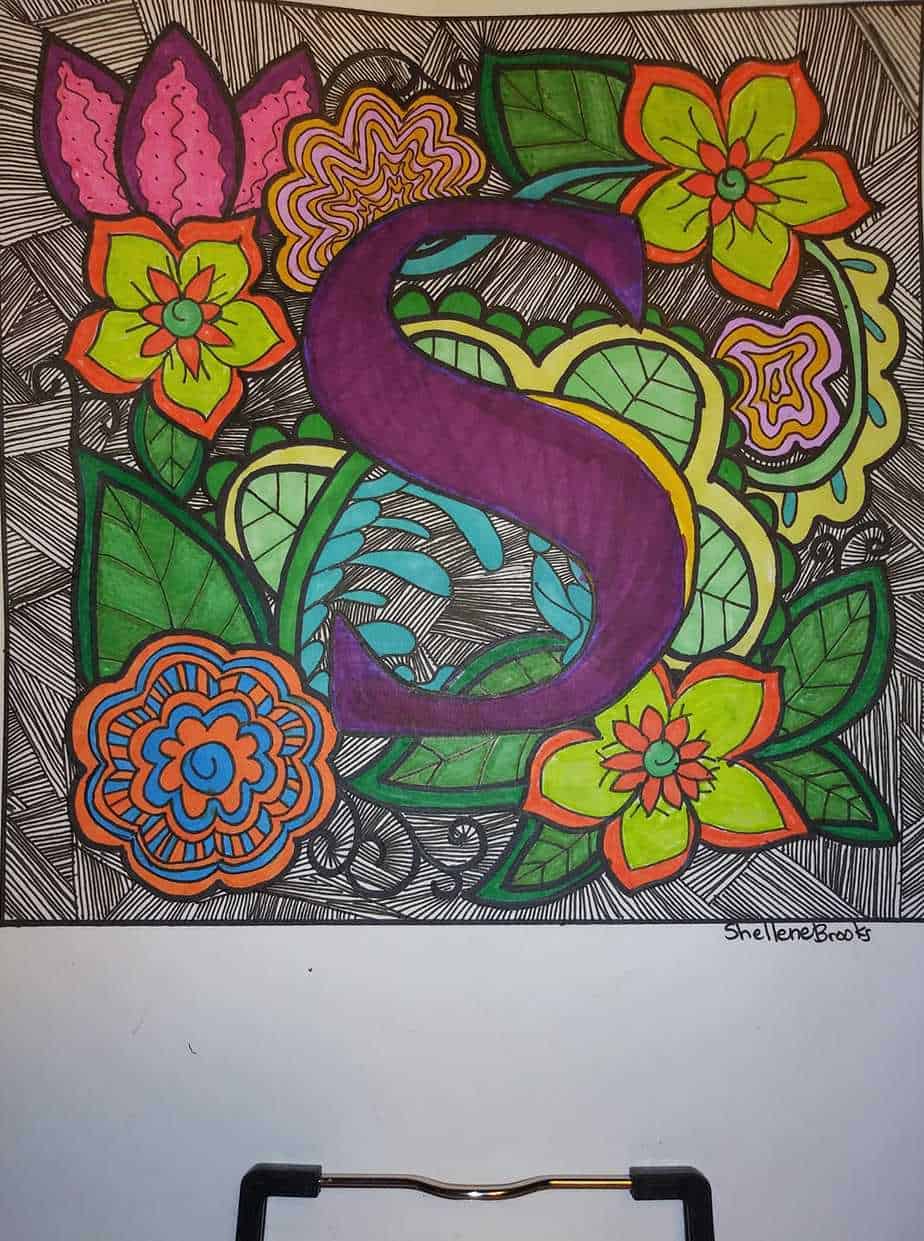 Brooks Shell
My decorative letter made with markers and color pencils.
---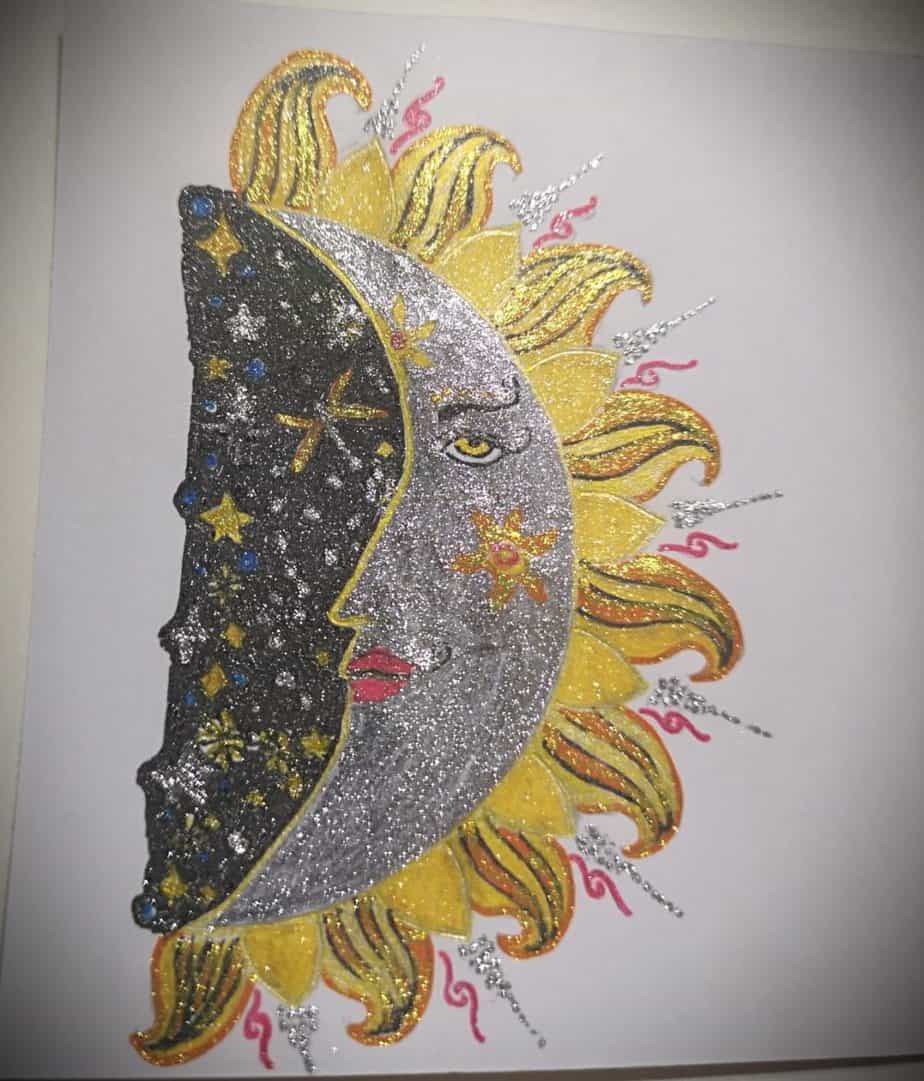 Deepa Naik
"Yours is the Light by which my Spirit's born:
Yours is the Darkness of my Soul's return
– You are my Sun, my Moon, and all my Stars"
~ E E Cummings
"D" for the Divine Who created and guides me.
"D" for Deepa (The Light)
A doodle at work that turned into magic at home – gel ink pens are 💓😍.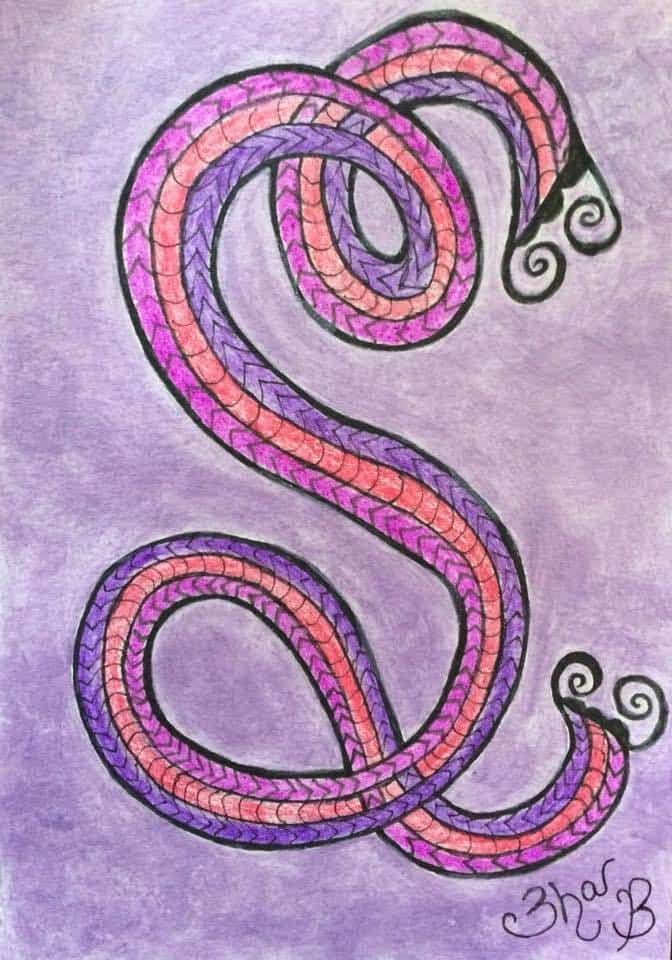 Sharon Matthew Bushloughran
Crazy snake S
---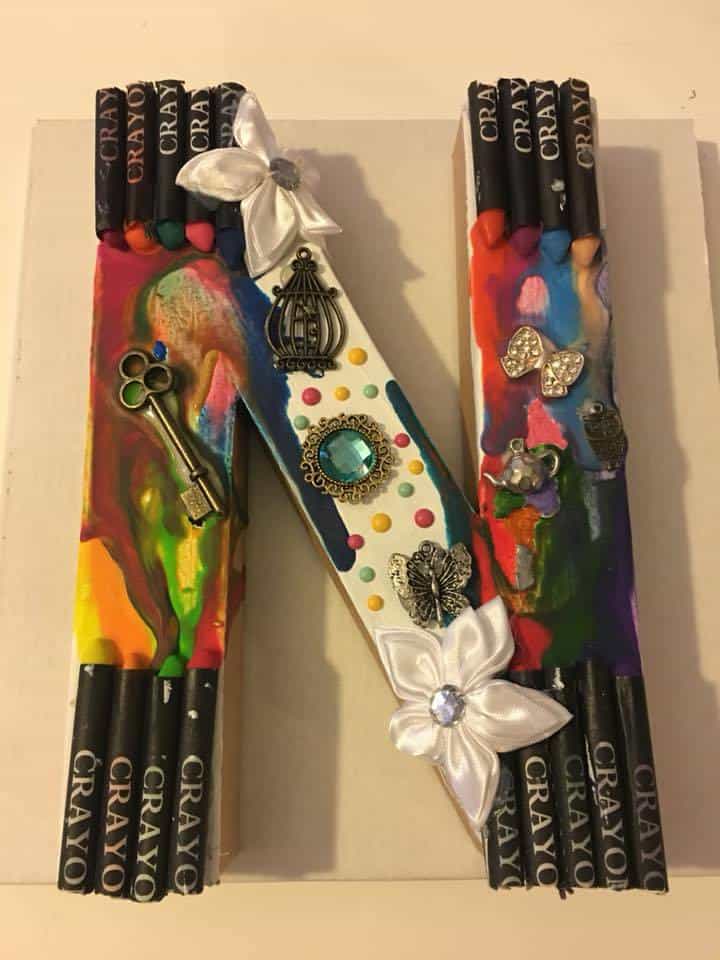 Nola Hill
I melted crayons for colour and texture, over the trinkets and then filled the wax free areas with Smooch. Finished with dots and the flowers. This was a lot of fun 😃
---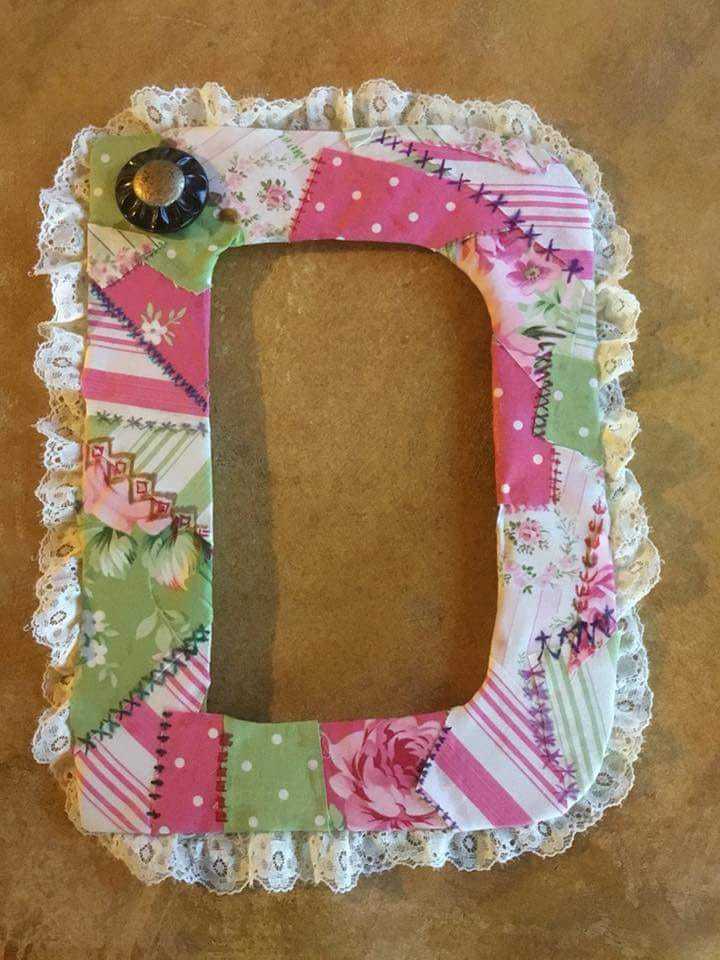 Debby Meyer
Crazy quilt D, sort of.
---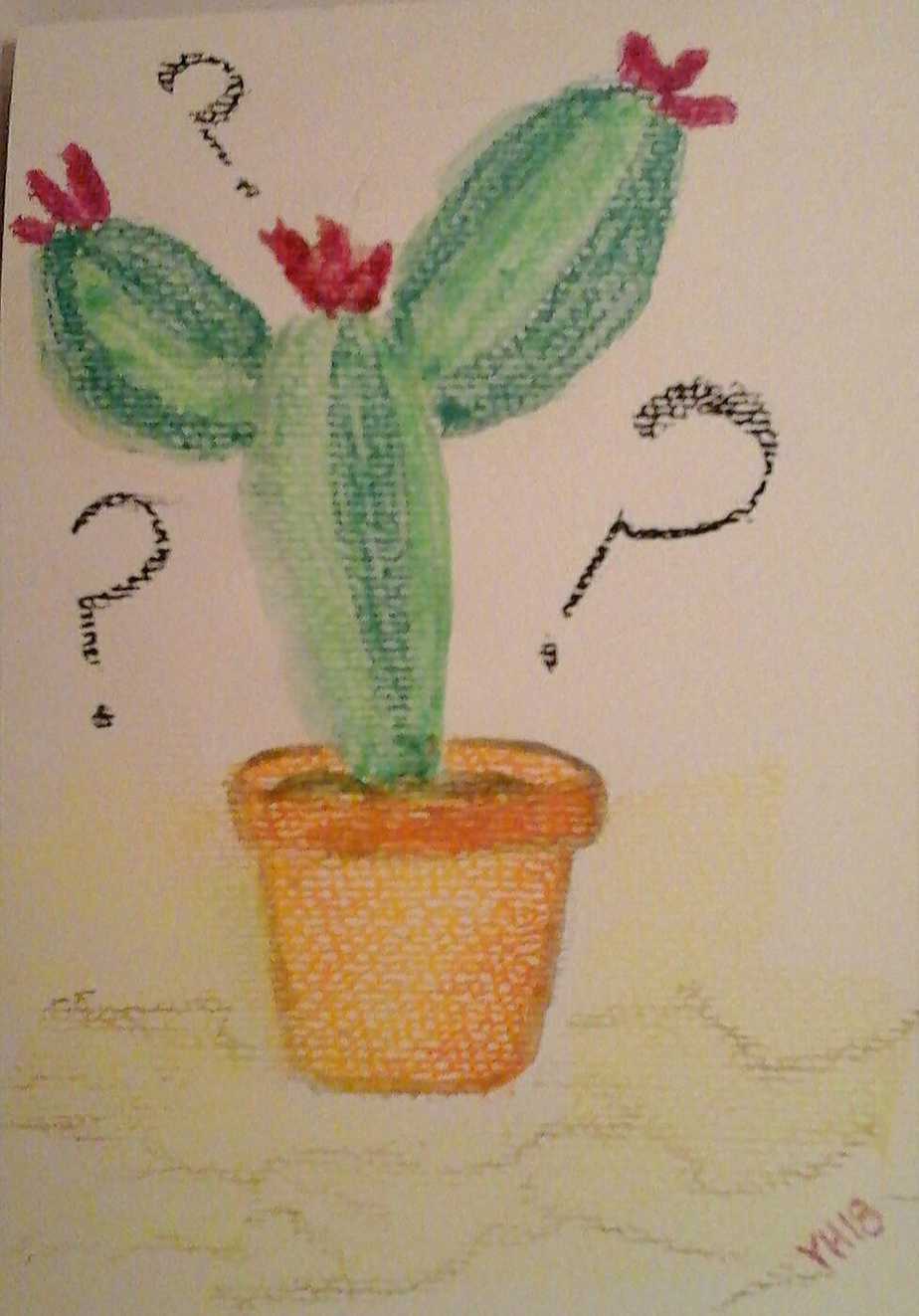 Yvonne Harman
No prickles on this cactus, just flowers & arms thrown wide 😉 The question marks are a bit of a family joke … I am inquisitive and curious by nature, always asking "Why?" My parents used to jest "I told you we should have spelt her name with an 'E'." 😂
---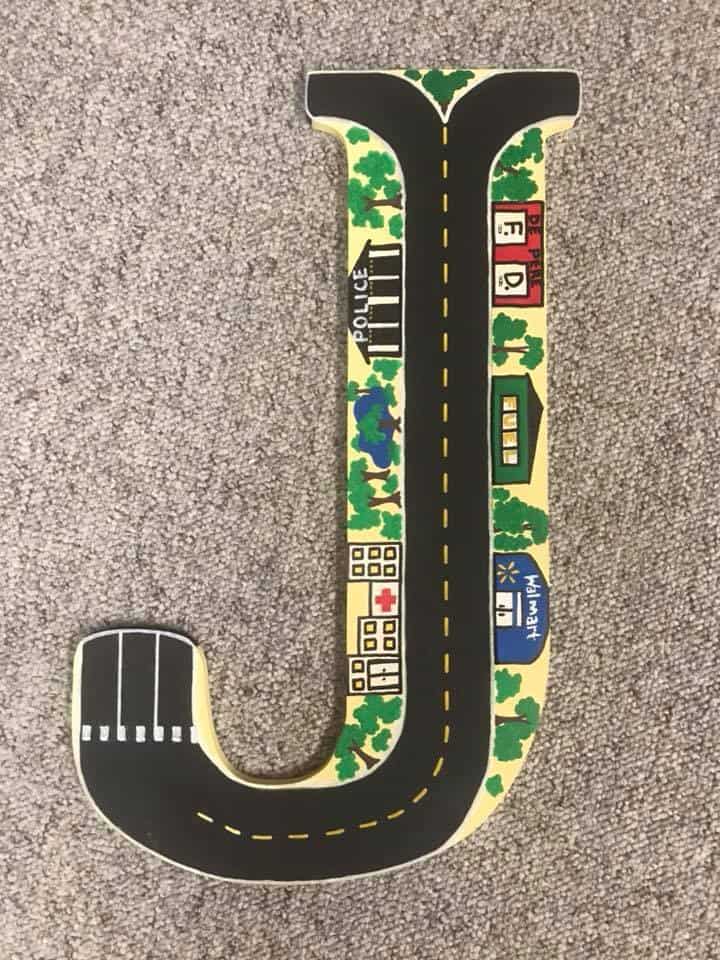 Kristie Lee
I painted this giant letter "J" for my daughter, and gave it to her for her birthday on Friday along with some matchbox cars. She loves it and so did the other children at the party. I hope it is okay to enter into this week's project since I just created it on Thursday. Have a great week!
---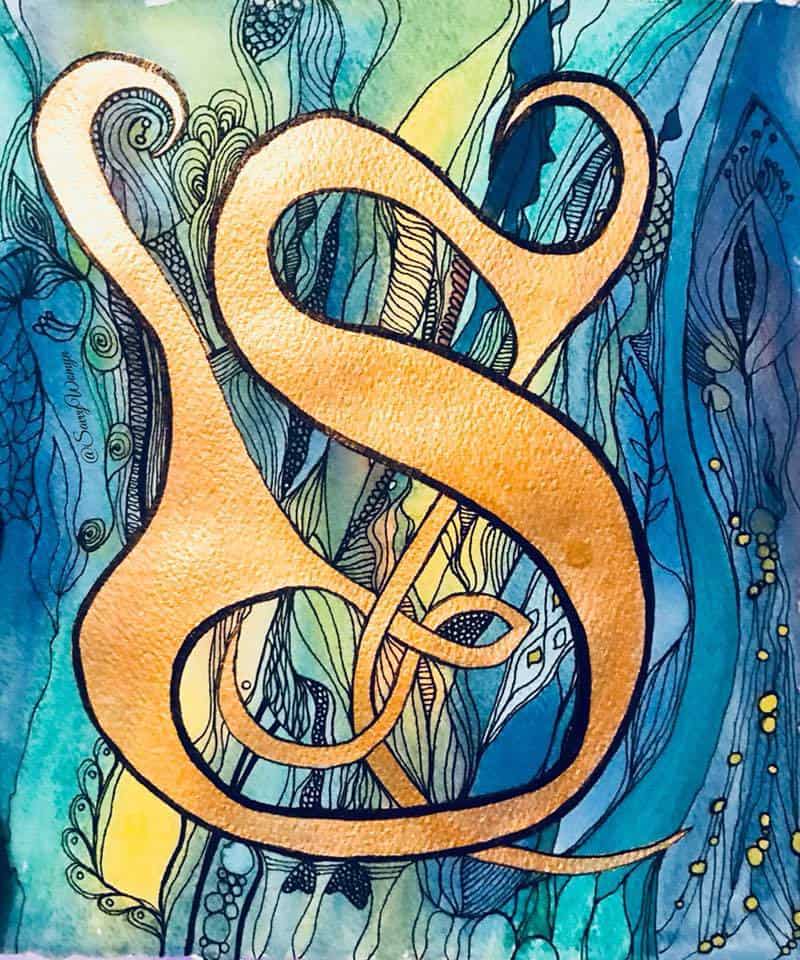 Savvy Corbett
Playing with watercolours for this week's project. Nature always shows up in my work in one way or another. I'm going to do more on the letter and finish off the background over the weekend.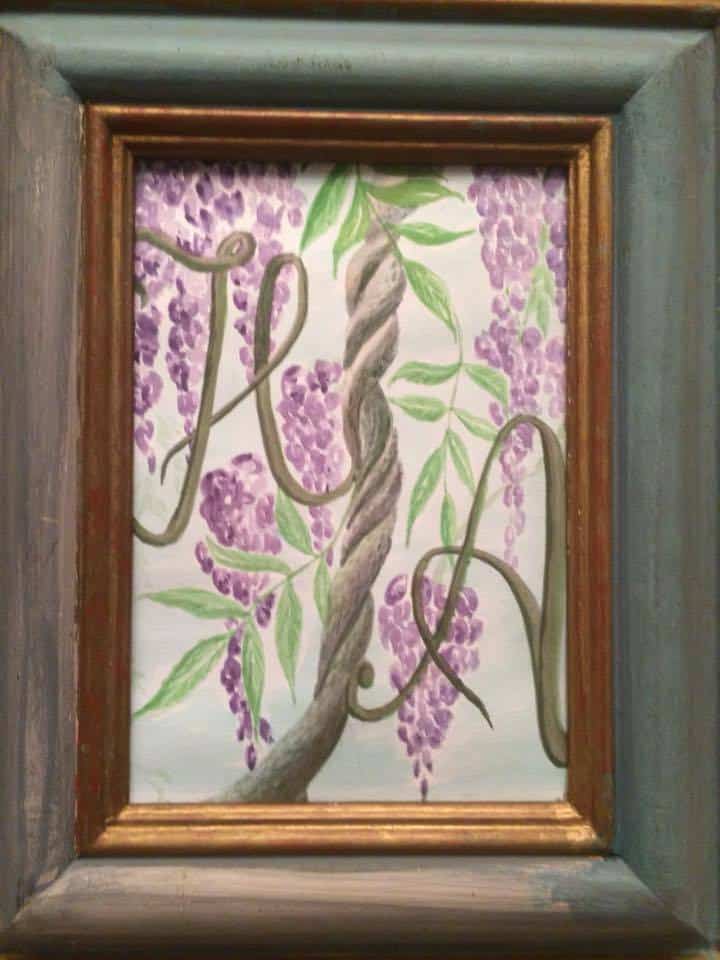 Helen Lewis
It's our 32nd Wedding Anniversary next week so thought I'd do not only my initial but Hubby Andy's too… inspiration was from Ecclesiastes 4:12 a three stranded cord isn't easily broken, and John 15:5 about remaining in the vine… wisteria is a sort of vine!
---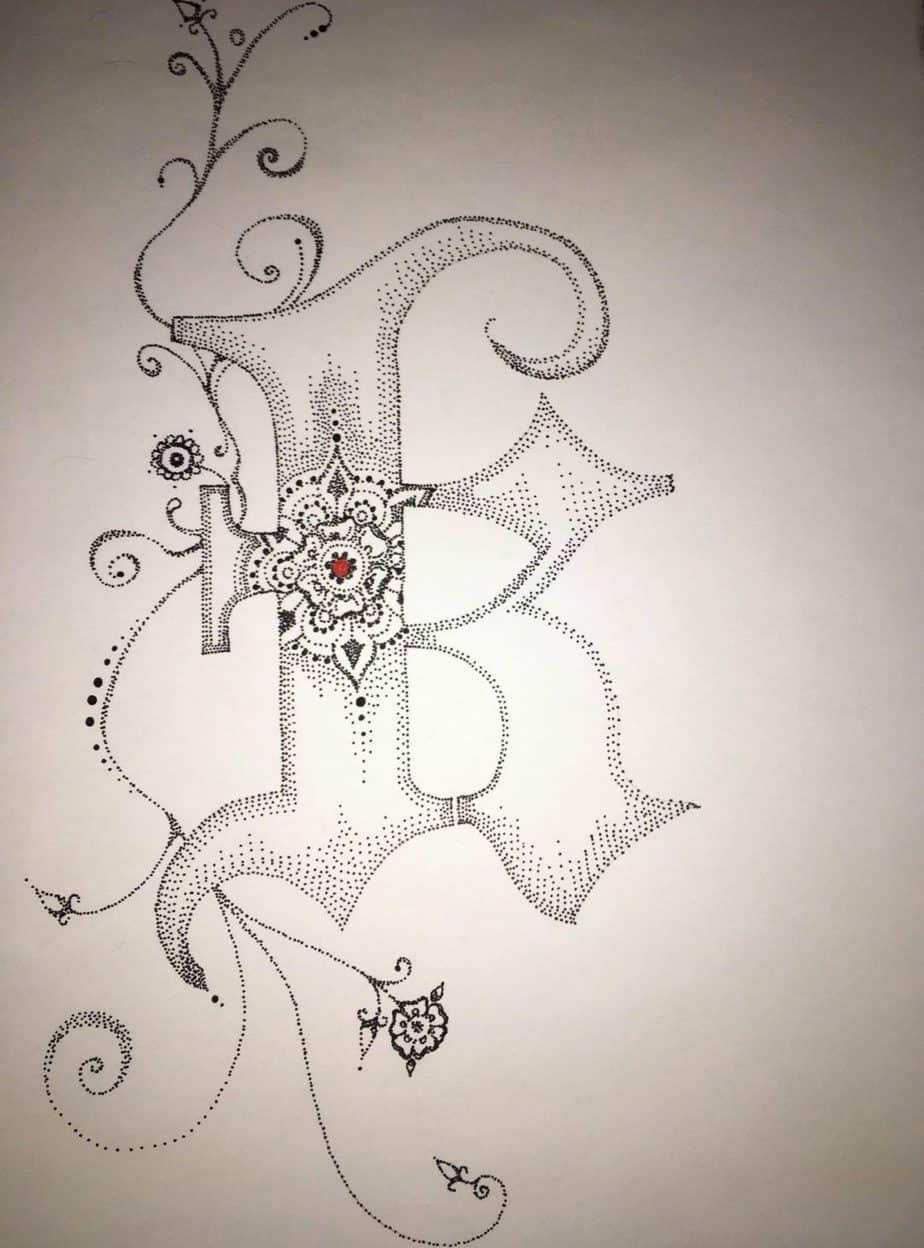 Keziah Tinkle-Williams
My project 7: I love to stipple for some reason. It is hard on the joints after awhile, but I would stipple the world if I could. The letter K has a special meaning for me, as this represents a name I chose for myself. I shed my birth name 3.5 years ago and legally changed it to embrace someone new. The reason that was read aloud in court: "I chose a name that is more aligned with my vibrational frequency."
---
Catherine Pitkin
The letter C for Catherine, pronounced on its own it sounds like Sea or See, so I used acrylic paints, plaster of Paris shells and stencils.
---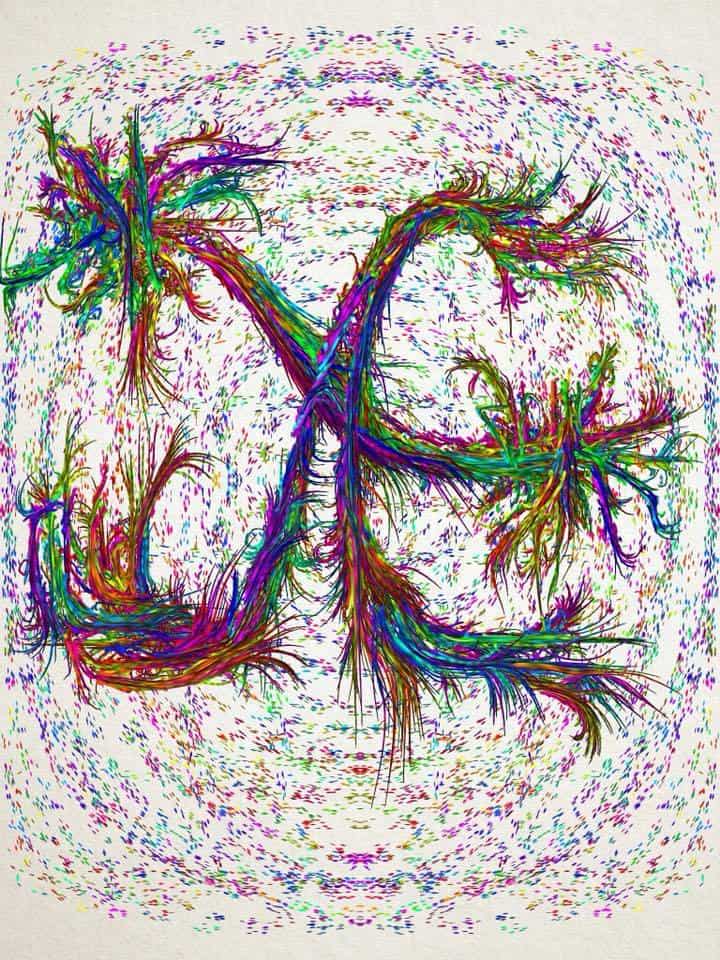 Anindita Dwivedi
Cheers to life!
---
Alison Equizi
I feel I am flourishing through Art
---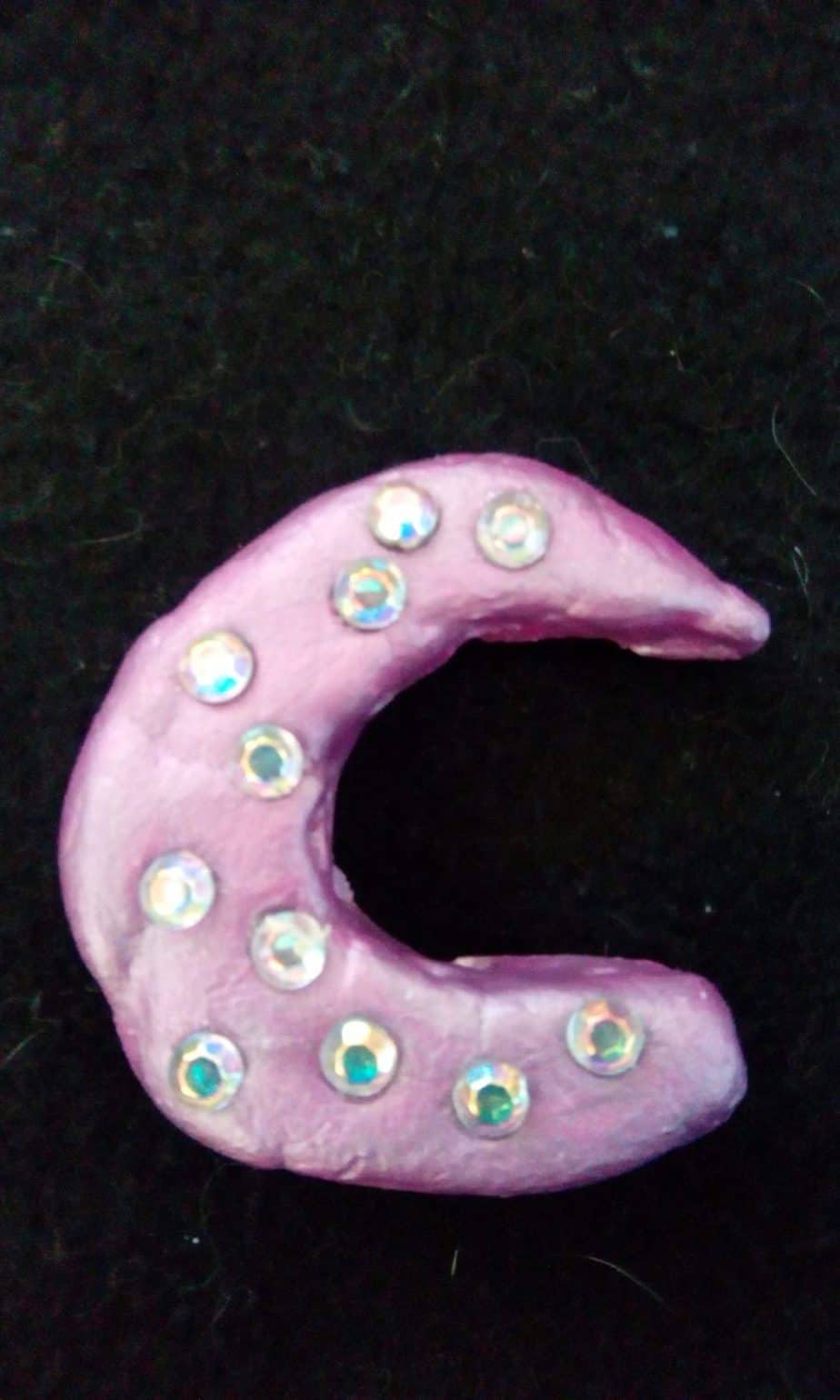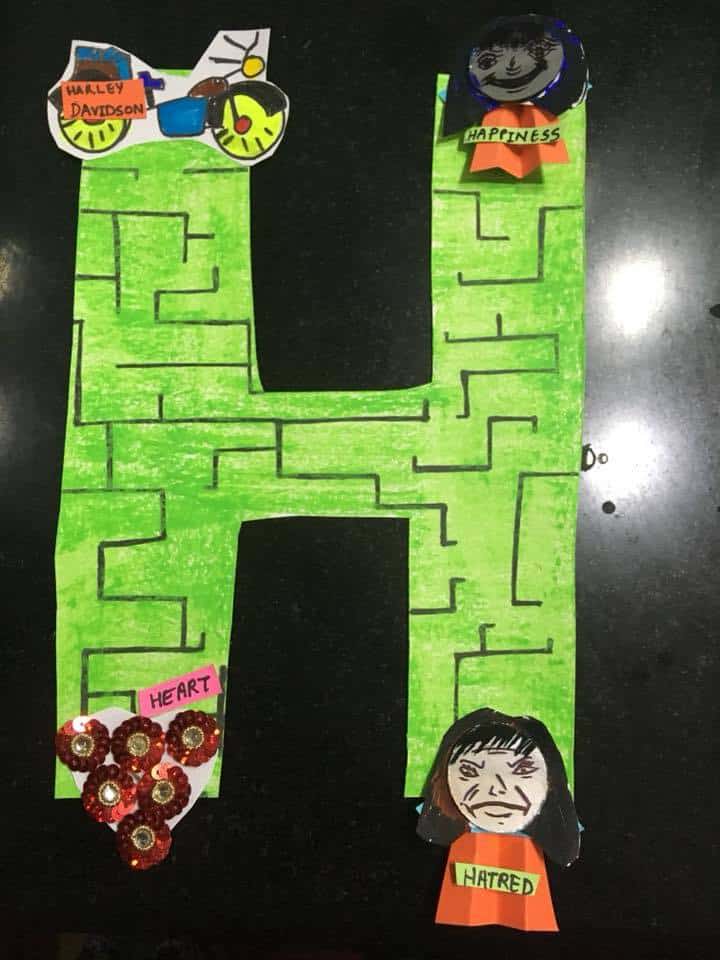 ---
---
Heena Sahi
Drive your H- Harley Davidson through the H – hurdles of life , choose H -happiness or H – hatred or sometimes when we can't choose , we just let our H – heart take over
Made this in hurry but that's what I express by the first letter of my name H – # mirrors# cloth motifs #crayoning#sketching #full of honest feelings 😊😇
LETTER H -maze game