DAWN NICDARRAH
---
CONGRATULATIONS TO OUR COMMUNITY PROJECT WINNER
"ANCESTRAL GUARDIANS" MEMENTO FOR SANDI

About The Project…..
Upon enrolment of our courses, all of our students are invited to be part of our exclusive Art Therapy community.  Here is where you can share and support one another as you experience your own Art Therapy journey.
This weeks community project was titled:  "Celebrating The Life of A Deceased Love One"
One of our dear community members, Catherine Pitkin, sadly lost her father quite recently and we are dedicating this weekly project in honour of his life.
We asked Catherine what she'd like the project to be about and this was her response:
I think for this week's project it would be nice to celebrate the life of our deceased loved ones, rather than the sadness one feels at their passing.
My project is in the form of a collage relating to my Father's passion for Jazz music, though he also liked classical and blues music too, so am attempting to incorporate jazz music notes with a few pics of him and hearts for love as a form of remembrance.
Instructions For Completing The Project:
Using any materials you wish, and in any style you prefer, create a piece of art that represents the life of a loved one that you've lost.
After being voted the winner by her classmates, we invited Dawn, to share with us, her own art therapy journey and her experience of studying with us.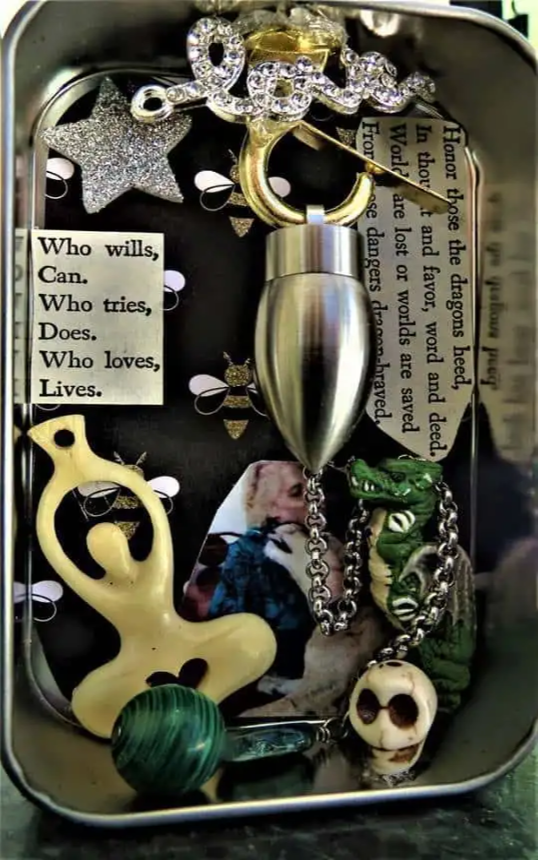 Artist name:  Dawn NicDarrah
My journey as an artist:
My journey as an artist had nearly been beheaded before it's prime … people were dismissive, unsupportive, downright cruel … but as a mother, creativity flowed, giving rich soil for my daughters to blossom in.
I painfully watched my eldest suffer similar criticism in her pursuit of art, but never backed away from supporting her to follow her passions (which paid off as she is a painter and working towards becoming an art teacher). My youngest took to writing and singing.
It was after a time of grave difficulty (my heart stopped due to a series of stress and health complications), during a time of recovery in which I decided to return to school, I took a ceramics class for creative outlet and for physical therapy to strengthen my hands. I have been engaging in various art classes (painting, drawing, printmaking, 3-D, ceramics, color and composition, photography – which has been with me since childhood – as well as Gallery Management) and I find that what I learn from one medium informs my work in each field and always I am learning more about myself.
From this series of discoveries, I have also found a new path. While photography is my constant companion, a friend on my walking meditations, like digging hands into soil, my soul flourishes with each artistic attempt with other mediums… and I want to share that with others. I have decided to continue my education in pursuit of a degree in Art Therapy.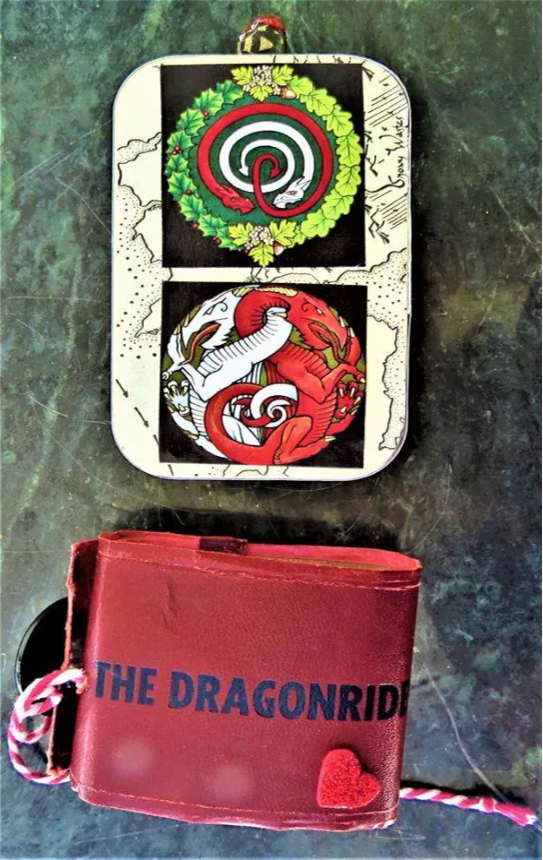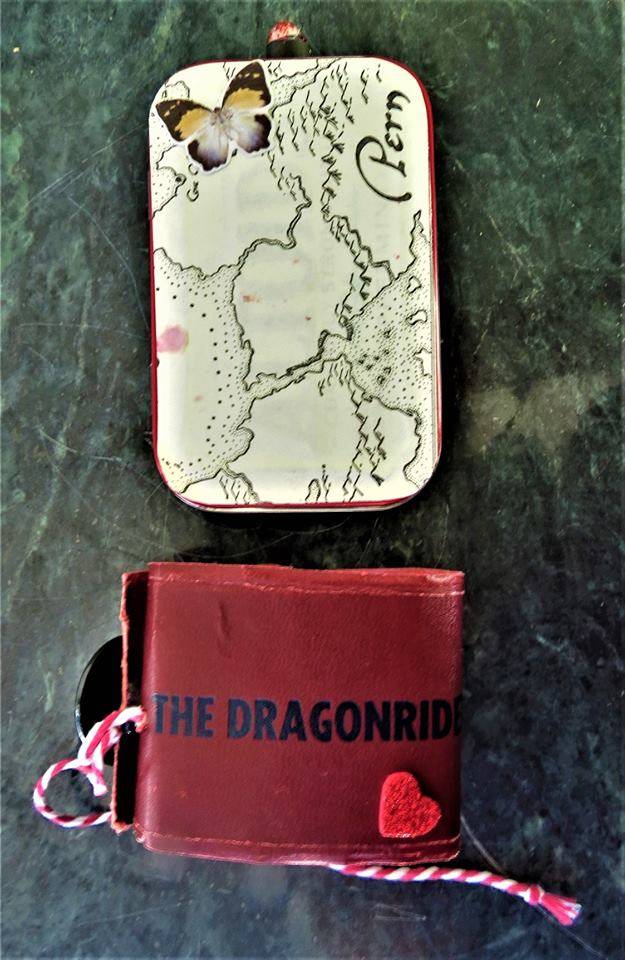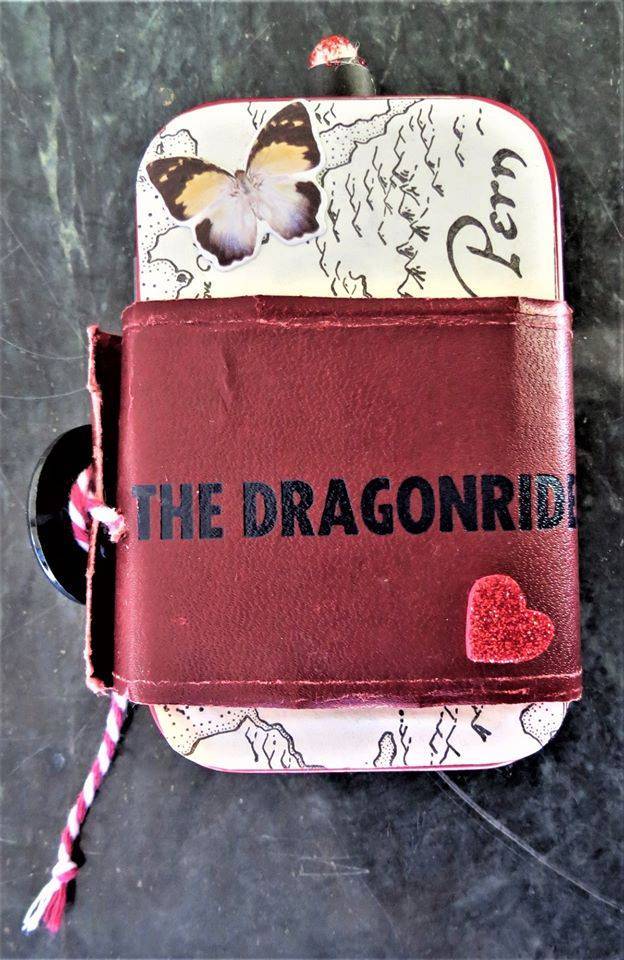 Title of your artwork:
Ancestral Guardians (Memento for Sandi)
What was your inspiration behind your winning piece?
The theme was "Celebrating the Life of a Deceased Loved One". Two people came to mind. My Grandfather, who I was very close to, but I was very young when he passed, and my Mother-in-law who I considered a soul sister. She influenced not only my life, but the lives of my daughters and we are all the better for it.
I am in the practice of creating vision boards to help pave new directions and aid focus. I have recently shifted from vision boards to 'vision boxes', working in 3-D.
I often search thrift stores for materials … I have collected boxes to experiment with. A friend had taken a small box and created a memento to her sister and it inspired me to create something in honour of the people who have lifted me in difficult times of my life. People who have been there for the good times and the difficult times. Our family keeps an Ancestors Altar at home, but we had recently packed everything to move … save for a few favourite things of my 'soul sister'.
Sandi was creative and inspiring … a force of positivity… generous and loving. Keeping it simple, drawing together a few things she loved, Dragons, reading, loving spirit, protective … and a small pendant urn with her ashes … added to a small tin box and her portable altar came into being.
What's your favourite medium and style of art?
I enjoy so many mediums, from spinning wool, needle arts, pyrography, beadwork, as well as writing and creating poetry, to more traditional forms of art such as painting, drawing, collage, ceramics and photography … but my deepest passions reside with writing, photography and ceramics.
In ceramics I primarily do hand building with coils and slab work (hands are still imbalanced in strength so throwing is difficult) and because I am tactile, I love to create work that can be touched and utilised such as birdbath sized hand labyrinths to smaller portable and personal sized labyrinths. Drawing upon some of my favorite gifts from nature, I create shakers. My favourite form to create is acorns. I also like to create ceramic cairn or stupa – stacked stones – as portable meditation altars, featuring a glass reflection "pool" in the base stone, an offering bowl with the second and a 'shaker' stone to top them off.
Finally, I have a deep passion for symbols and like to create, once again, tactile stones with symbols as focus tools. Every piece is created with a meditative focus that heals as I work and offers paths healing to others.
Courses I'm enroled in:
– Art Therapy for Self Healing
MORE EXAMPLES OF OUR STUDENTS' ENTRIES INTO
THIS WEEKS COMMUNITY PROJECT
AMANDA MARY
Thank you all for welcoming me into this group. Art therapy brings so much joy, peace, and healing into my life and others lives that I know. This is my entry for my 1st challenge. I just want to say that whoever has lost a loved one, you are not alone, I am here with you…and pray for you. I can relate to the pain and struggles of losing loved ones. One thing I've learned is that although physically things may change, the love and memories you've experienced are eternal. Art helps me to make sense of times of darkness and channel my energy into something healing and therapeutic.
This is a collage portrait painting I made of my beloved white Labrador (Sandy) DeeDee. The colorful collage pieces were actually made from a project I did with my DD. She walked across a poster board of pet friendly paint and made her own masterpiece with her paw prints. I decided to put together this portrait in her honor and it meant so much to my family. I added a photo of DD which I printed and framed after her passing. She died from a sudden tumor on her heart. I was called in the middle of class to rush to the hospital to say goodbye and I felt her heart stop. It was one of the most heartbreaking things I've gone through. I thought this picture was a sign because it has a mysterious green glow around her back side/ heart when it printed but the rest of the photo is clear as day. Green is a color of the heart and healing. I felt that this was her telling me she is okay in heaven, swimming in a bunch of lakes and playing with lamb chop toys. I wrote a lot in my journal about her during this time too. It also helped me and is meaningful for me to look back on. I love that Art and poetry helps us to appreciate our memories forever. Thank you. ~ Amanda
---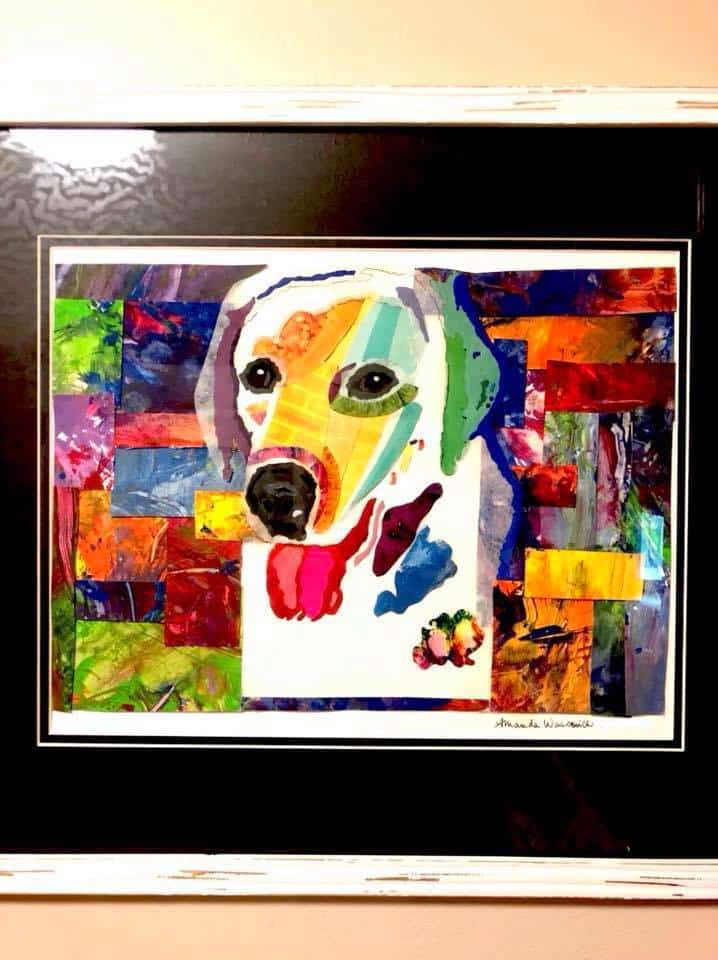 ---
---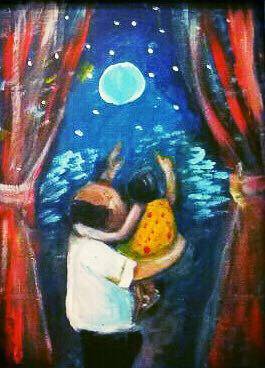 ---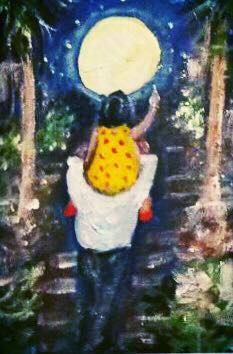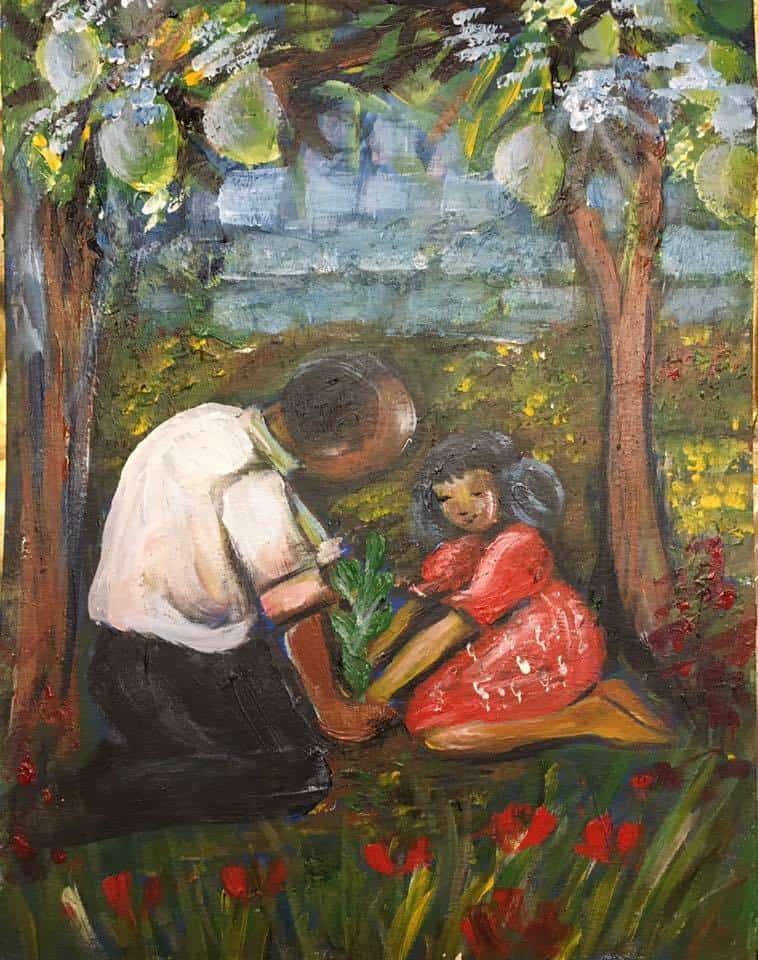 ANINDITA DWIVEDI
I am celebrating my hero my dad with these 3 paintings through the eyes of my inner child.
My dad was an amazing father with a cheerful persona. He was the person whom I could demand anything and he made sure he fulfilled them unconditionally. With him I learnt how to enjoy simple pleasures of life.
1) In the first painting I am asking dad that I want that bright thing on the sky. He never told me it was impossible to have the moon.
2) In the second painting I am going with him to catch the moon.. He used to take me for a walk on a mission to catch the moon and I used to come back sleeping on his shoulders ( according to mom).
3) In the third picture I am planting a tree with my dad. I loved gardening with him.
He was a combination of loving, caring, nurturing and a strong willed person. He still is my guiding light from heaven.
There are days when magical things happen and I look up and tell him "Dad I know it's you😉"
---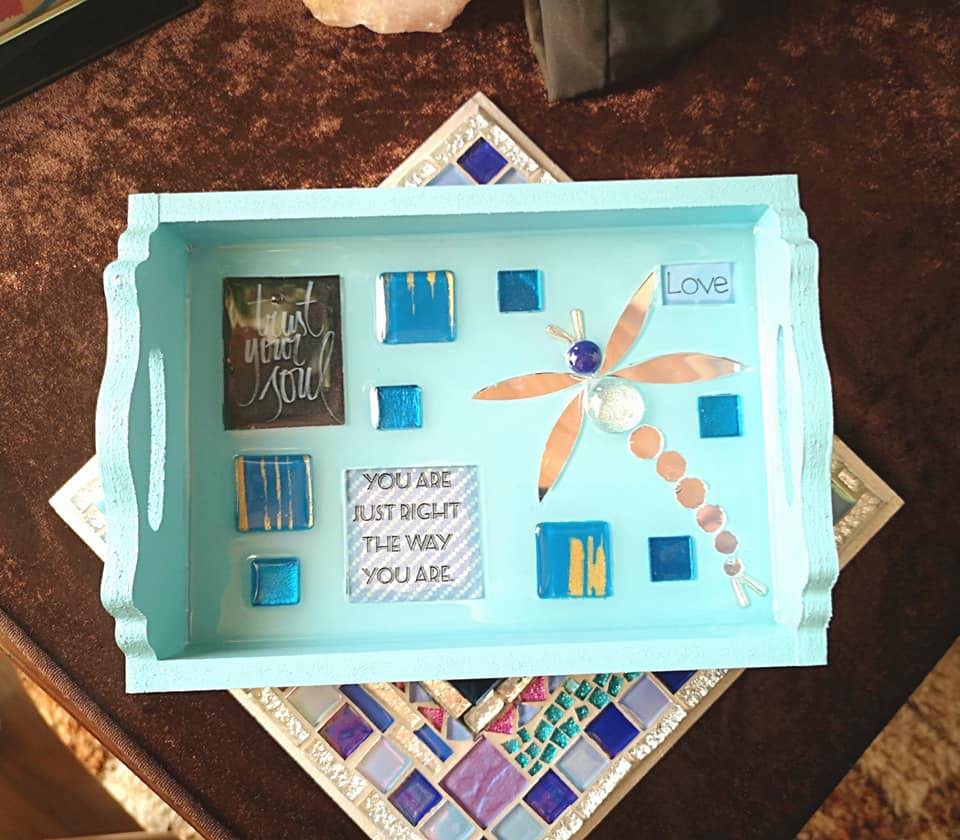 DEEPA NAIK
I lost my Dad 11 months ago… It's been one of the most challenging times of my Life. I struggle to find the words to describe how I am feeling, but I can say that losing a parent leaves the biggest void.
Not a single moment goes by that I don't miss Him, but some days are harder. For instance His birthday, or mine or any of my Love Ones.
It's happened so often that on these especially difficult days, a Dragonfly has appeared in some form or another around me. I rarely ever see them flying around, but on His birthday as I was "talking" to Him, one appeared and flew around me for a good few minutes.
On other occasions it's been in the form of a card or an artwork, a picture in a book or even a social media post, etc. And I just know that it isn't a coincidence. There is no such thing as coincidence.
So for me a Dragonfly symbolizes my Beloved Dad letting me know that He is still very much with me. I made this in honor of Him and to remind me that I am Love and so very Loved and to trust my instincts (Soul). It a very simple work; My Dad was the epitome of simplicity.
The Blue signifies freedom (soaring in the Heavens), serenity and peace – He found these throught His tremendous Faith in God. Seeing the color Blue has always made me feel Happy – now it's the same feeling every time I see a Dragonfly🙏🏻💙✨
---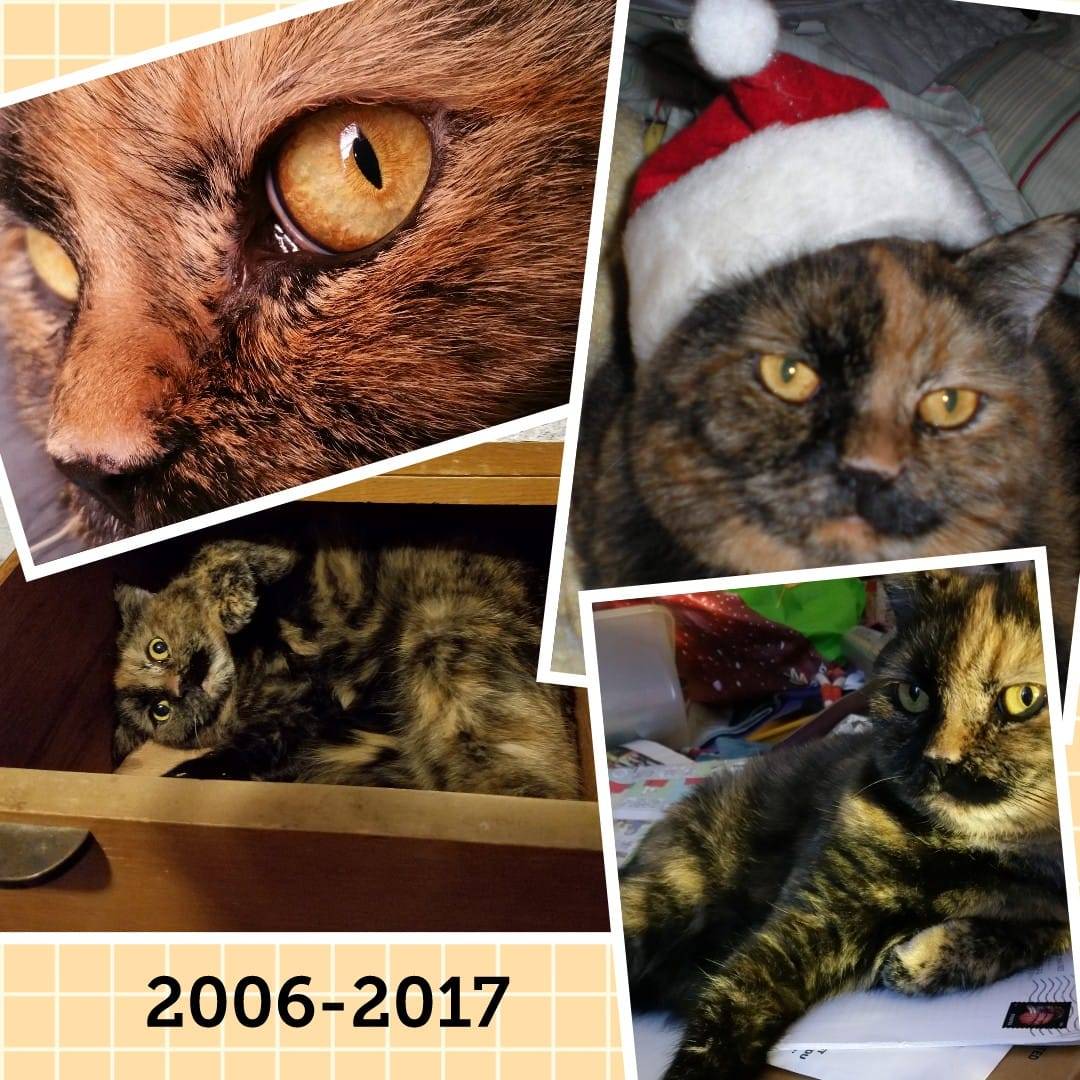 LAUREN CLOUGH
I made this collage of my cat, Precious, using a collage app on my phone.
---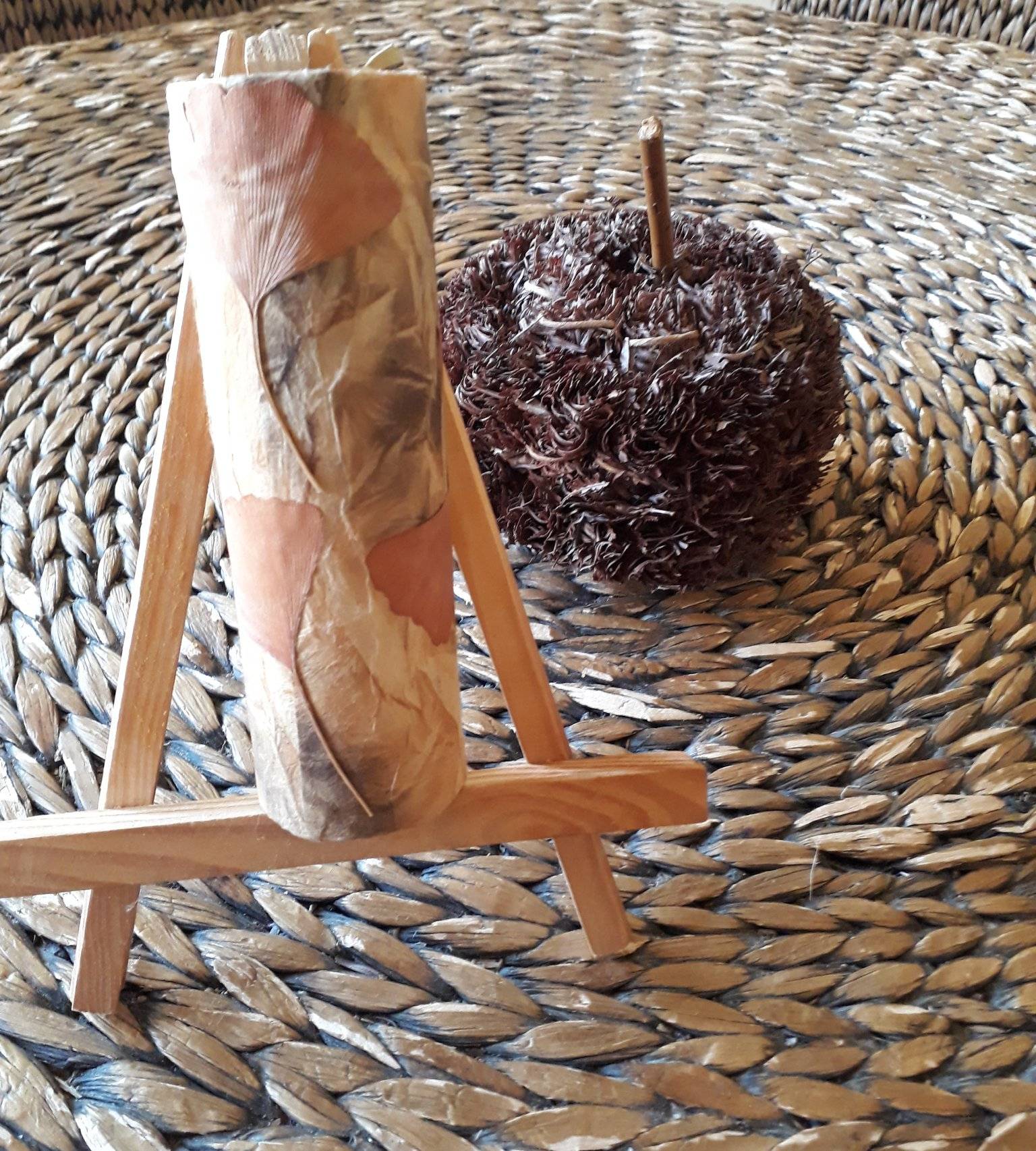 GERI AVRAMOVA
My art piece this week is dedicated to all my beloved relatives, that passed away. I thought i can do something to bring back the memory for them all, for they have been a part of my life and we have shared so much together. So I made this kaleidoscope to represent how the colors of their souls touched the color of my own soul. And every time I look through it it's like looking through a two sided mirror – I make a connection with them and keep it vibrant and present…it also reminds me, that the spirit is always alive, only changes its shape…
---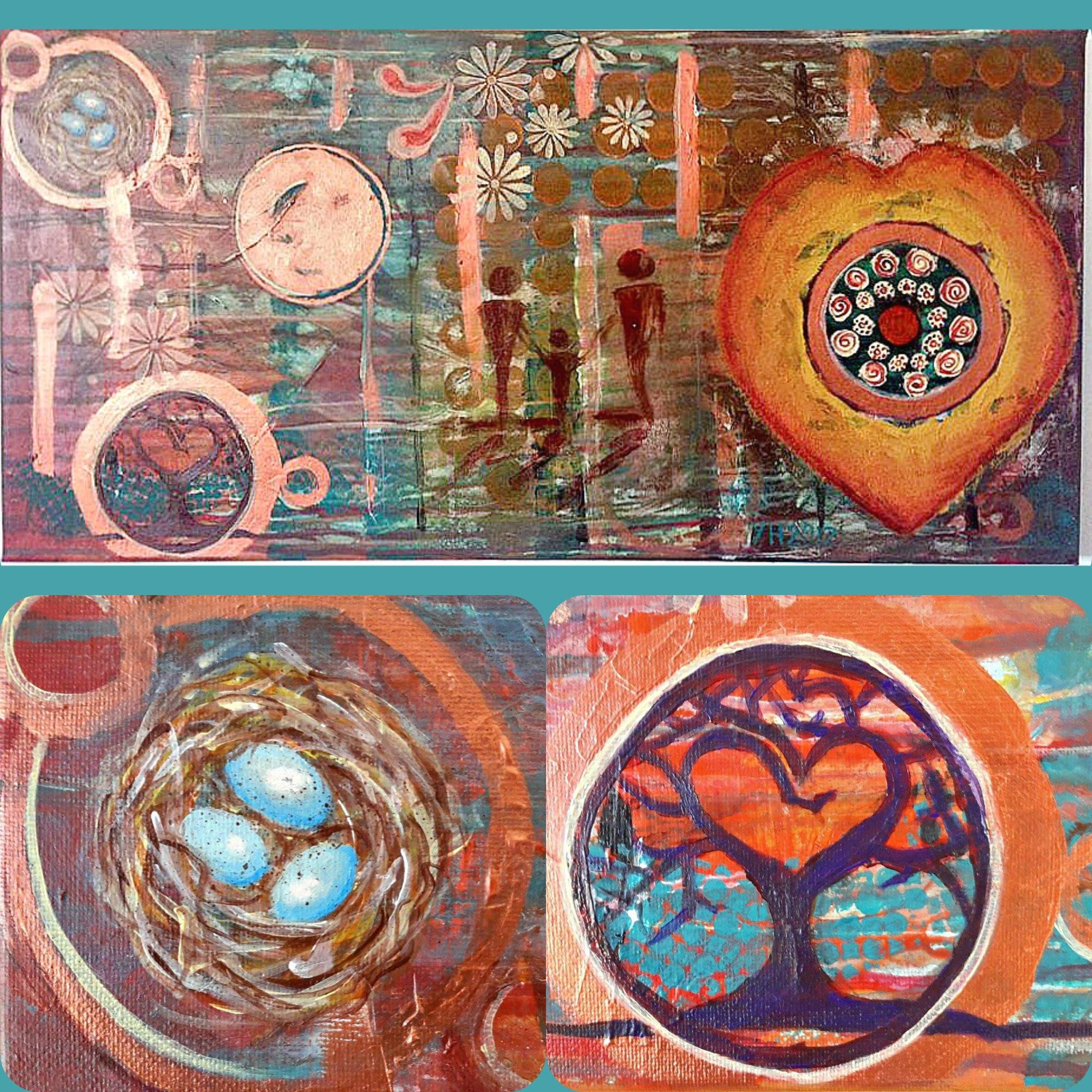 YVONNE HARMAN
"Heartsong" the figures in the middle represent the child I lost to miscarriage between my husband & I; the 3 eggs in the nest represent my 3 'breathing' children; the tree represents my love for all of them.
---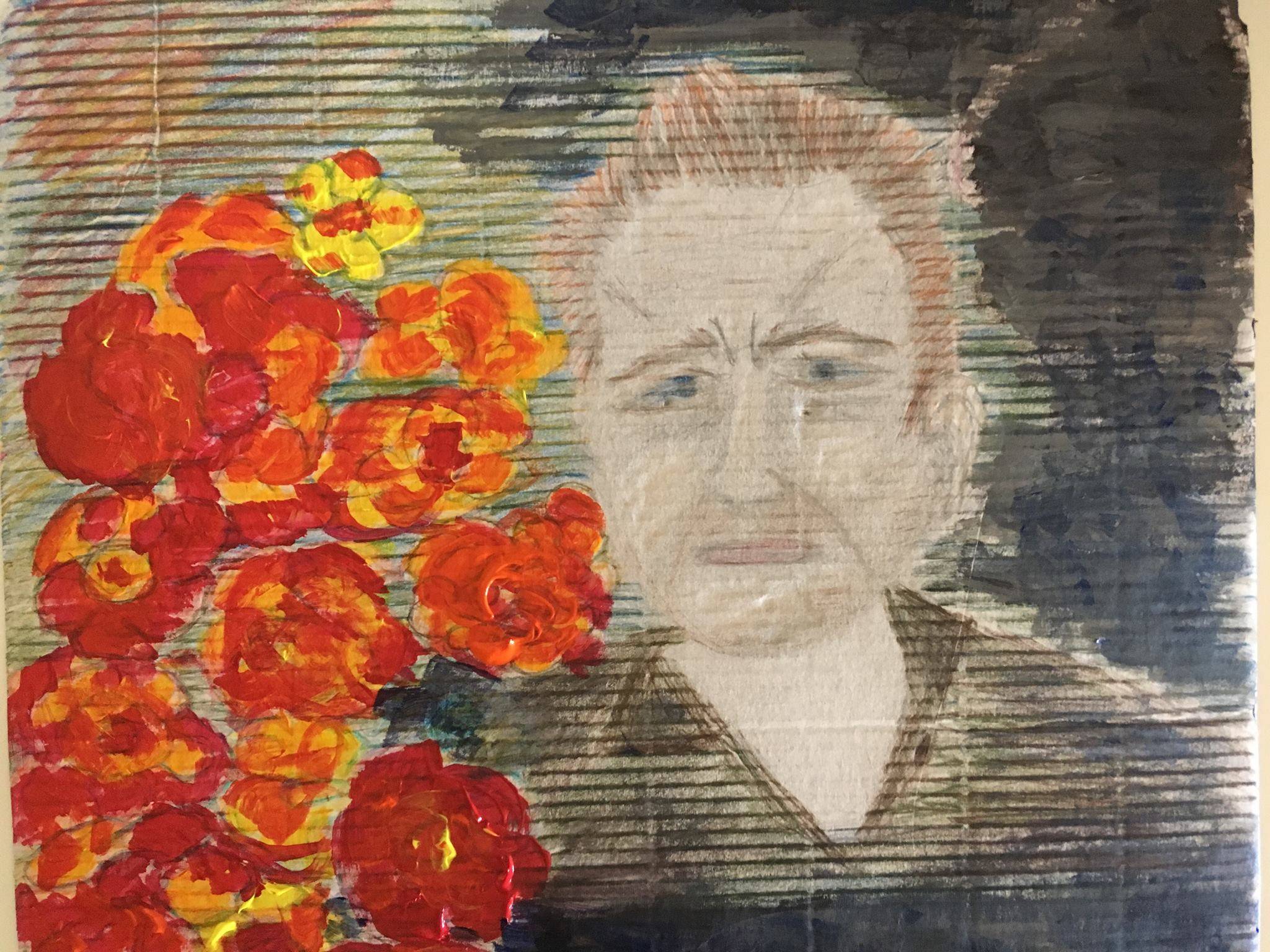 CHRISTINA EMMY LIND
The story of my beloved friend who lost tracks and eventually himself too. We must hold on to the beauty and the hope that is still within. Acrylic on paper.
---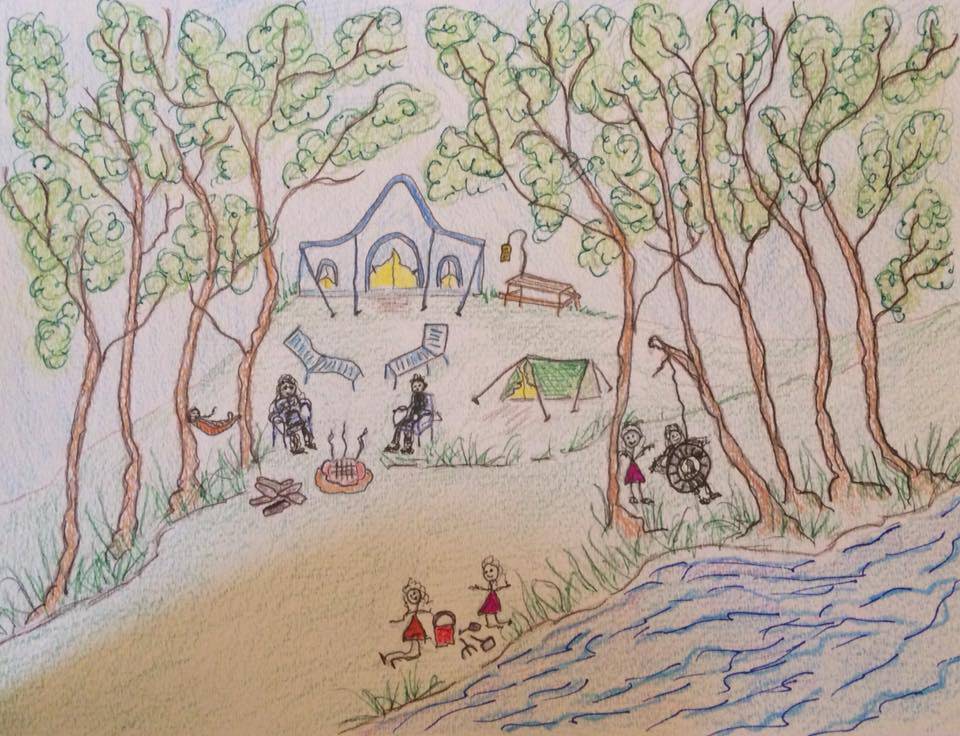 SHARONMATTHEW BUSHLOUGHRAN
I'm honoring my dad who died in 1982 at the age of 49. My very best memory is camping years ago with dad, mom and siblings just before he deployed to Vietnam.
CATHERINE PITKIN
If I could paint I would have, however I chose to surround the Eulogy I'd written for my father with different pics of him in good health, along with flowers, butterfly's, hearts and music notes to represent his passion for Jazz. He had been a member of the Sydney Jazz club and had done a radio programme for the Cessnock community radio station every Thursday.
---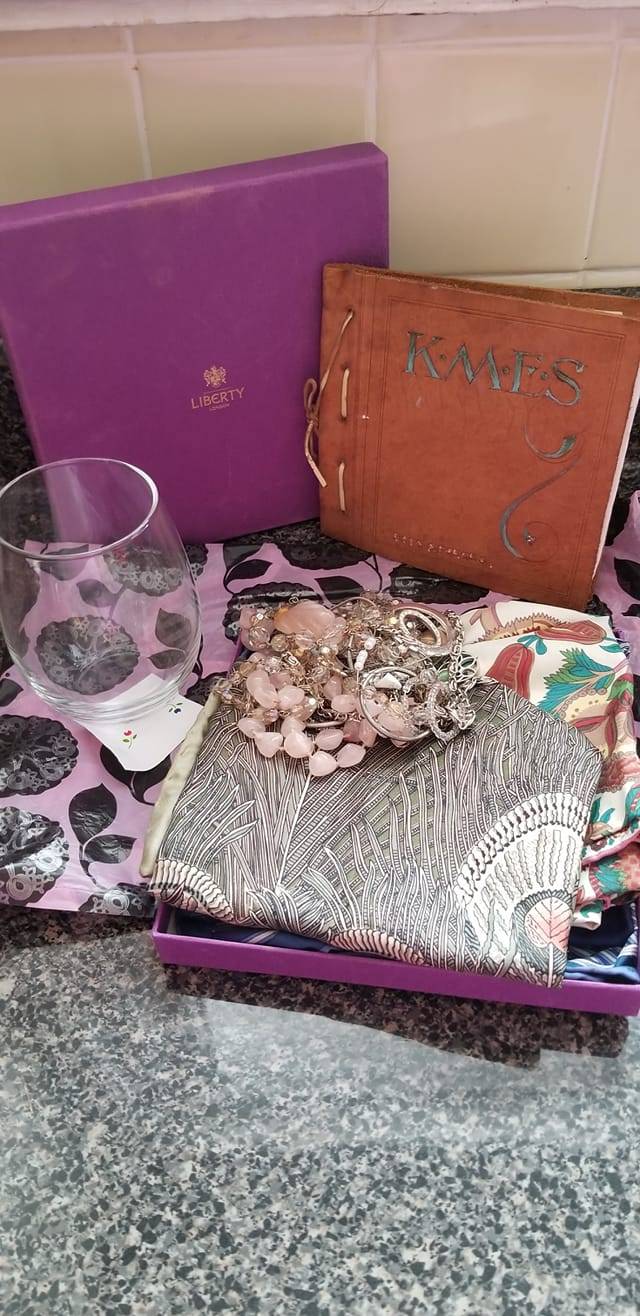 FRANCES RAPTOPULOS
Both of my grandmother's are passed away but I am always stumbling upon things that were either theirs or things that remind me of them. In this picture is my maternal grandmother (granny Grace) her set of silk scarves in the purple box that she sent to me before she passed away. My paternal grandfather was an artist and would always make my dads mom little leather bound books of her favorite things, a glass that reminded me of the ones she had in her house, a small piece of the same tulip wall paper in her home and jewelry she had given me. Both my grandmothers passed away in South Africa while I was here in the USA, so these little things mean a lot to me.
---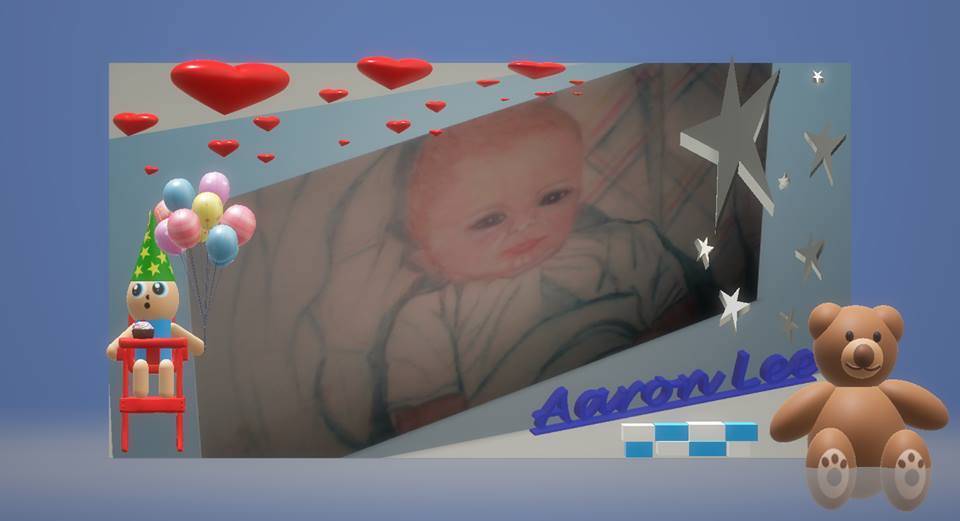 YVONNE IVY
My painting of my first grandchild Aaron Lee he was an bundle of joy that bought us so much happiness and laughter in our lives. He loved playing with his toys and shouting at you to attract attention. His toys he loved was his teddy bear and building bricks. One happy moment was when he first tasted rice pudding yes all over me and on the high chair. Laughable moments that I have never forgot. He is always in our hearts and minds as that beautiful baby boy who came into this world to bring joyful moments to the family. He would of been 18yrs this year so much missed 7mths you were taken to heaven to live with the angels our little star . You loved twinkle twinkle little star each night I look up and imagine your one of the brightest stars in the sky. Loved always sweet angel.
---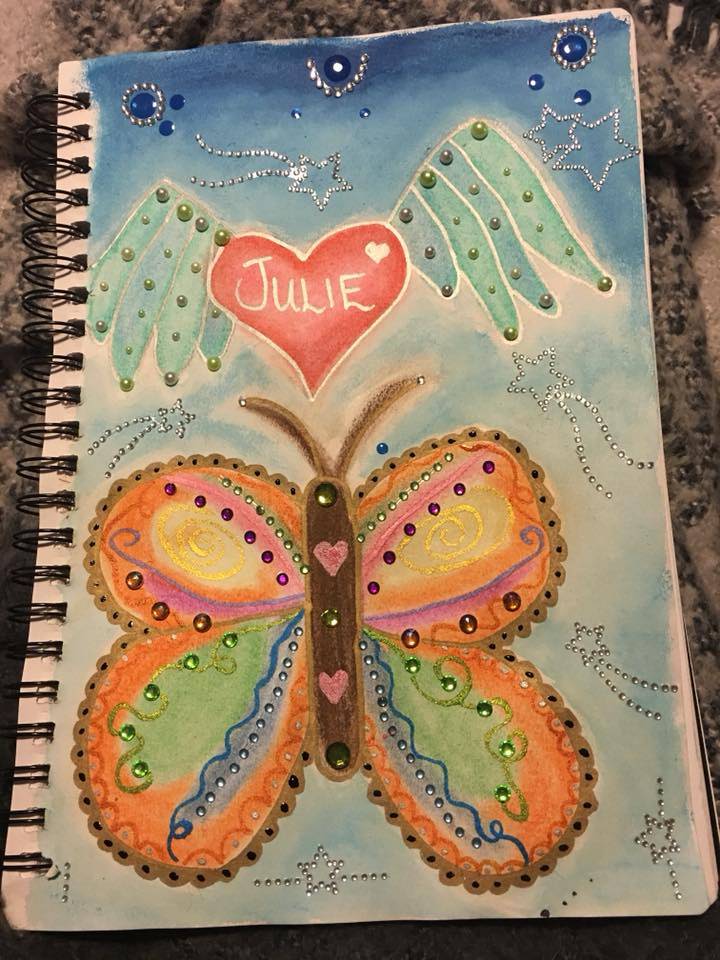 NOLA HILL
This is my tribute to my beautiful friend Julie, who never woke Valentines Day last year. I don't normally like butterflies but when I am sad or thinking of her, I see them 😊. It should have been her 50th birthday last week ☹️
Watercolours, markers, chalk pastels and bling…
---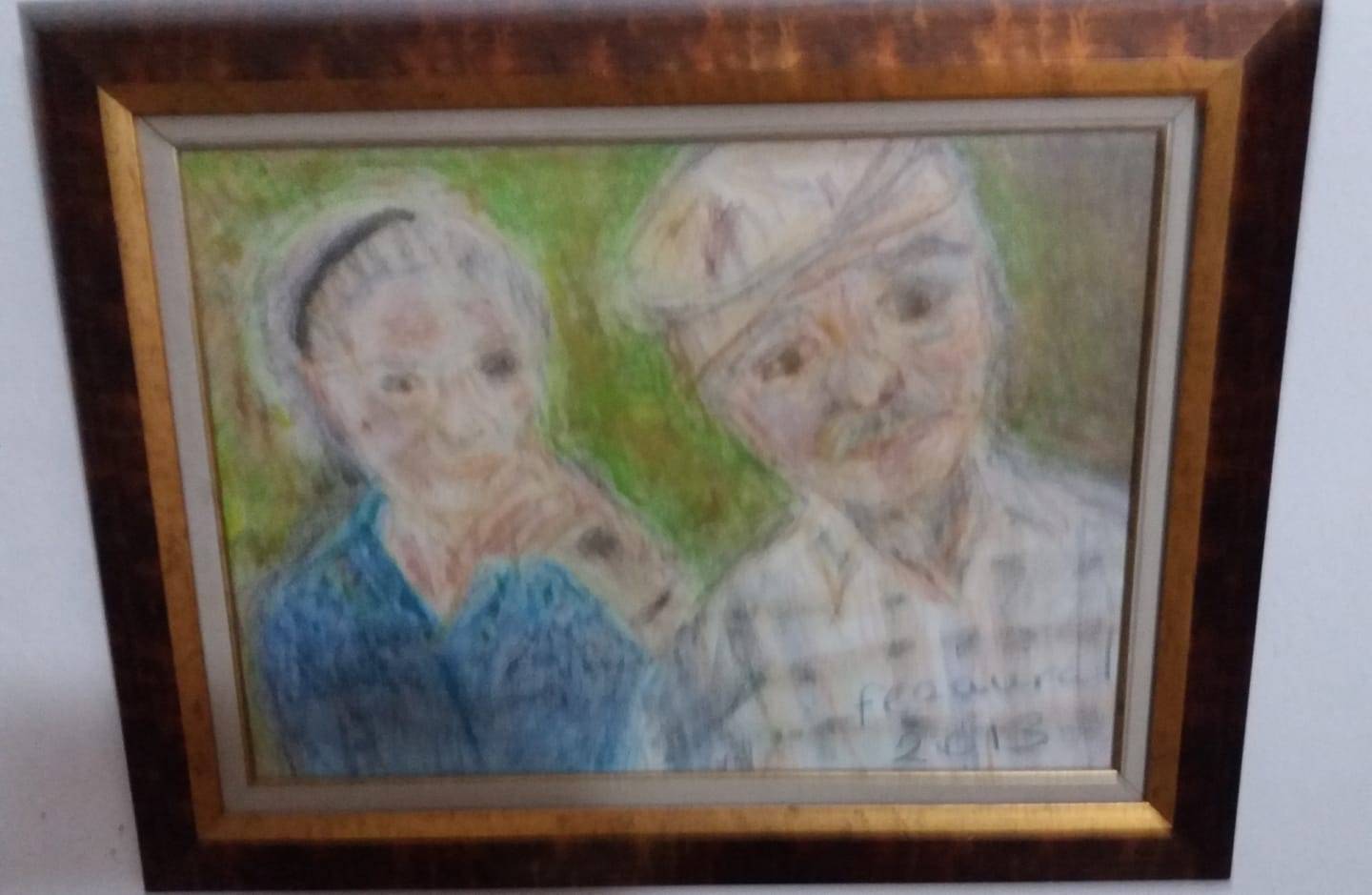 FEZA URAL
My mom and dad.