CAMY DE MARIO
---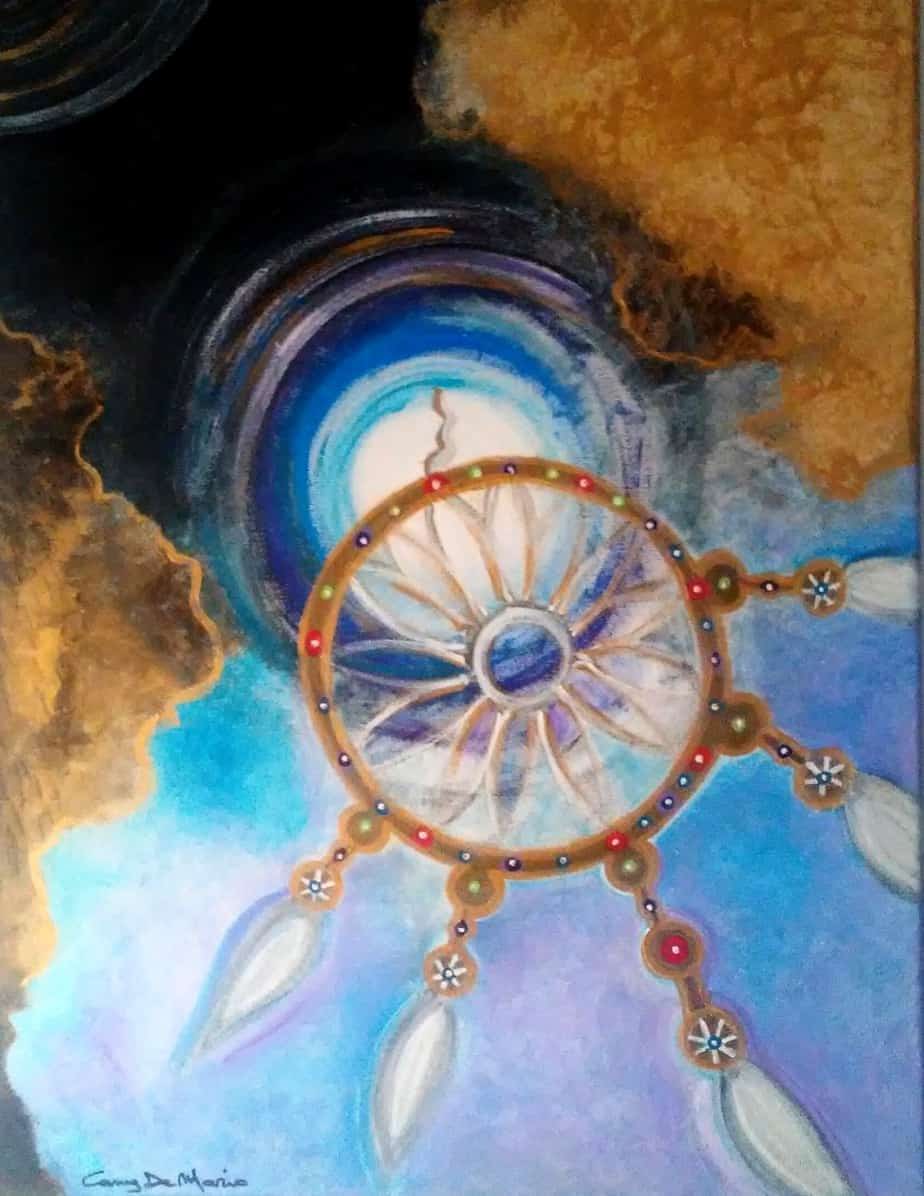 ---
---
CONGRATULATIONS TO OUR COMMUNITY PROJECT WINNER
---
---
About The Project…..
Upon enrolment of our courses, all of our students are invited to be part of our exclusive Art Therapy community.  Here is where you can share and support one another as you experience your own Art Therapy journey.
This weeks community project was titled: Dreamcatchers
Either paint, draw, or construct your dreamcatcher, from any materials you wish.
Your creation should be a personal interpretation of what you'd like your own dreamcatcher to represent.
After being voted the winner by her classmates, we invited Camy, to share with us, her own art therapy journey and her experience of studying with us.
Artist name:  Camy De Mario
My journey as an artist:
I have always been a very creative girl since a young age.
Storytelling and cartoon characters development were my most favourite things to do, and this is the reason why I started my artistic career as a children's book author and illustrator.
Drawing and painting have also been one of my favourite venues of escaping reality, especially during times of struggle.
I have witnessed the changes in my mood and circumstances during those moments of creativity and other amazing benefits, that I have decided to take a deeper look into Art Therapy. I have taken a few courses and became certified.
Because of my passion of both writing and drawing, I have lately created a new method called "Intentional DoodlingTM" that I have used with some clients during a volunteering position in a homeless shelter where I live here in Florida.
I continue to be inspired to express my feelings through many types of art as a way to soothe my soul and the one of others.
Title of your artwork:
– CATCHING THE DREAM – Acrylic on canvas
"Dreams captured and held through the dark vortex of the mind, always find the light to manifest."
What was your inspiration behind your winning piece?
I have always been attracted by the mystic and powerful energy of dreamcatchers.
They represent hope and determination and inspire us to leave behind any fear or doubt.
No matter how dark is our present and how sometimes our resolves seem so far ahead or even impossible, we need to hold on to our dreams, because there is always a shining light at the end.
What's your favourite medium and style of art?
Many favourites. From acrylic to coloured pencils, markers, mixed media.
I love to create abstracts, butterflies, hearts, flowers and sea life.
Anything that inspires me and makes me happy!
Courses I'm enroled in:
– Art Therapy for Self Healing
– Art Therapy – Understanding The Self
– Art Therapy – A Student's Perspective
---
VIEW OTHER STUDENTS ARTWORK RELATED TO THIS PROJECT
---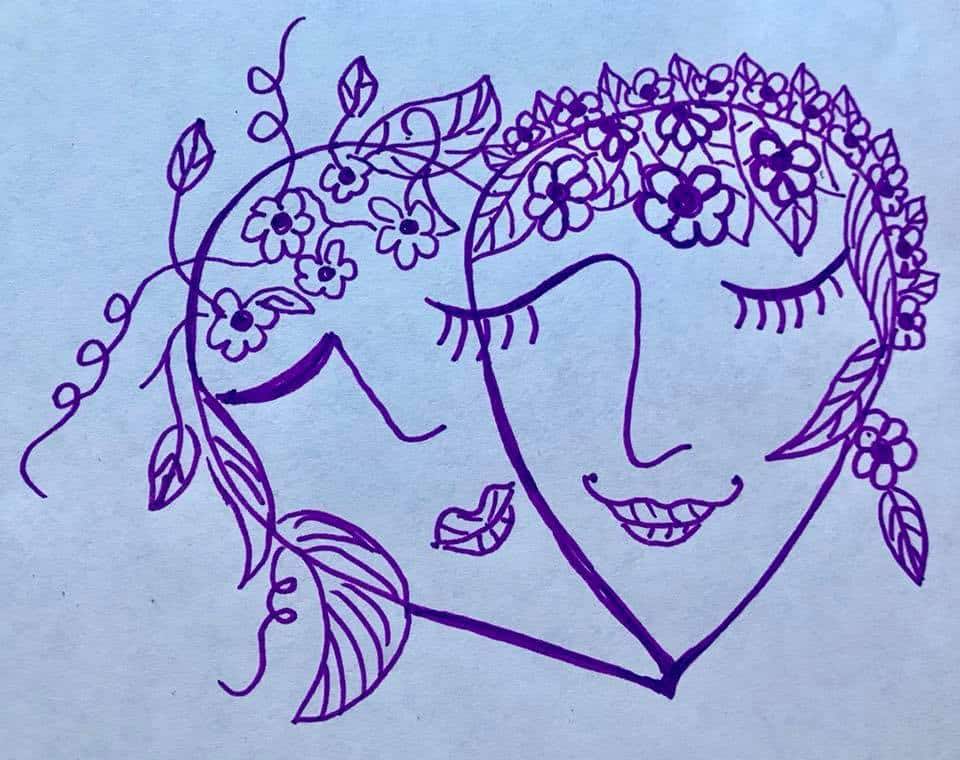 Anindita Dwivedi
Only an open heart can catch dreams with open arms.
---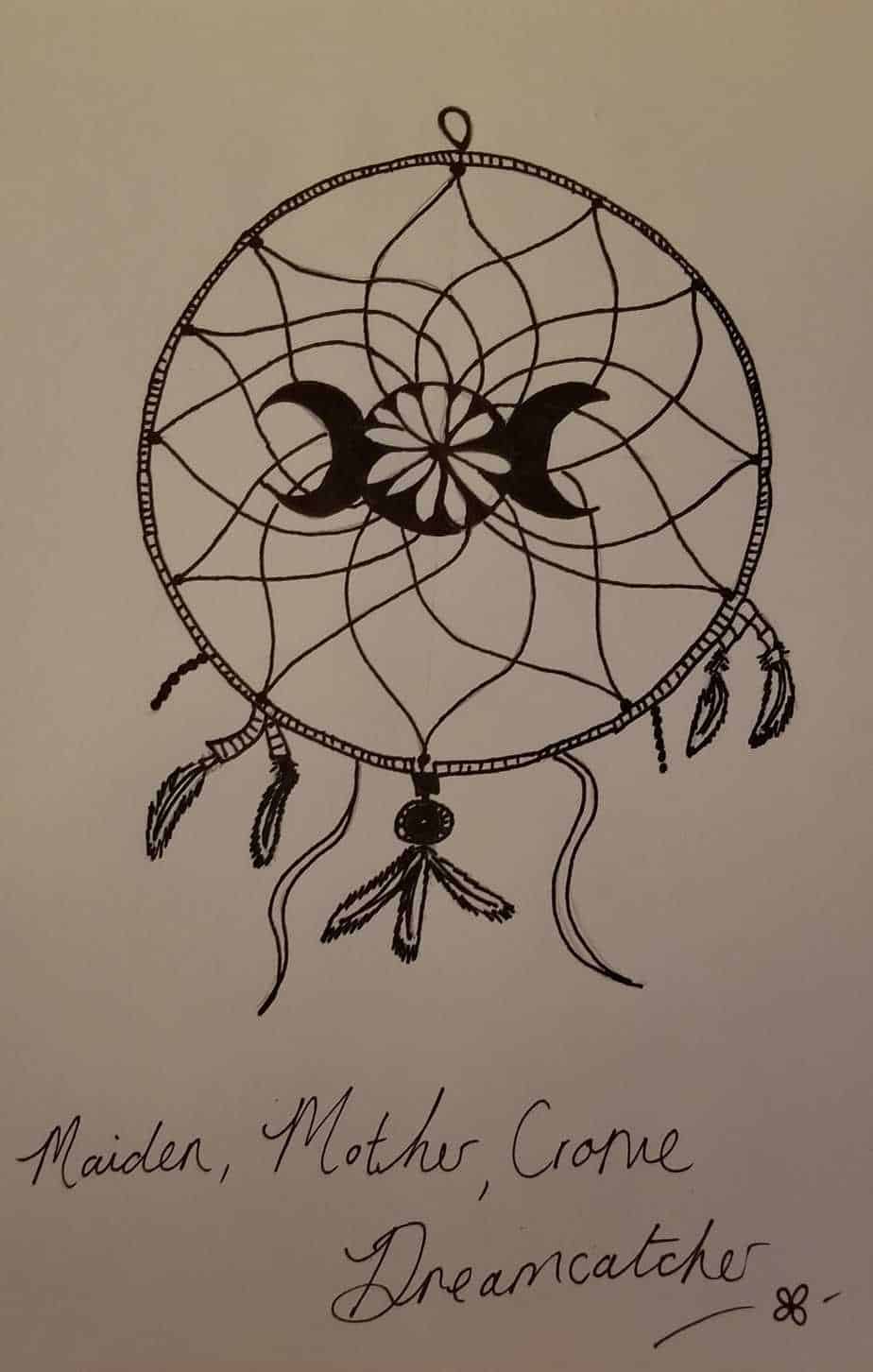 Frances Raptopulos
I chose to draw one. It represents the Maiden, Mother, Crone transformations that a woman pass through with life changes. As a mother of three small children I am seeing how I've transformed from a young 'maiden' to now a Mother. It is a new found freedom for me as I am set free from old beliefs about what is important in my life and self. The centre represents the moon phases which is the symbol for maiden, mother, crone and the feathers represent my new identity and freedom.
---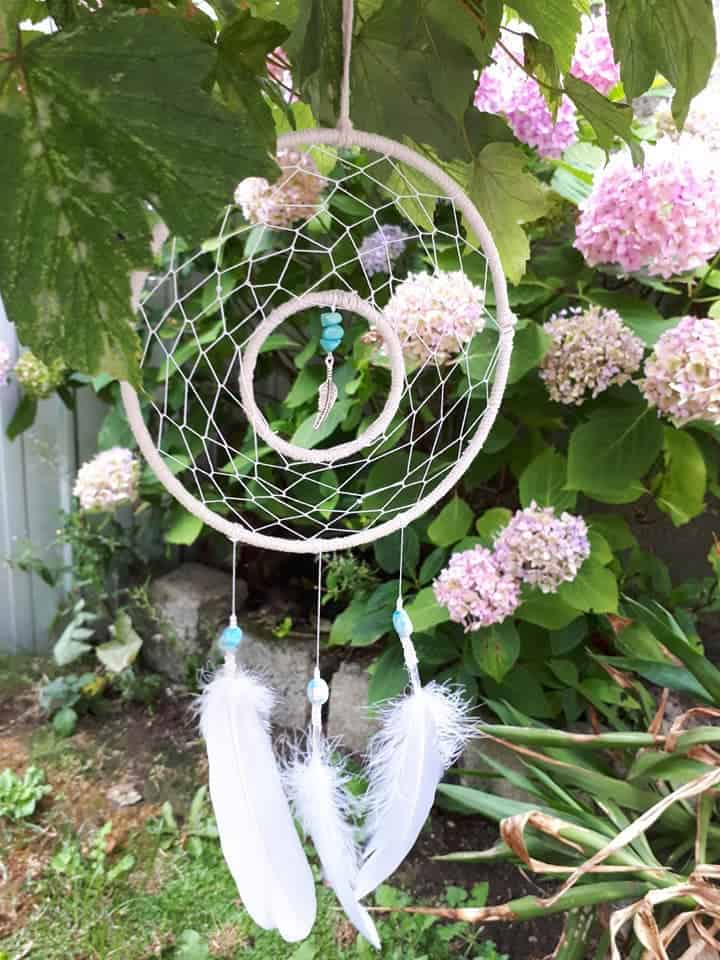 Jenee Owens
The crystals represent me healing journey and connection and the white feathers represent angels who are always around supporting and protecting me 🧡
---
Marjolein Boereback
Hello, as you can see I am not an artist, but instead of postponing things again, I just posted my "Idea" of a dreamcatcher. It intercepts your nightmares and converts them to dreams, dark to light, scary to pleasant. First drawing ever posted on the internet.
---
Geri Avramova
The butterfly representing the change I am going through and the various colours-the abundance of emotions I am feeling!
---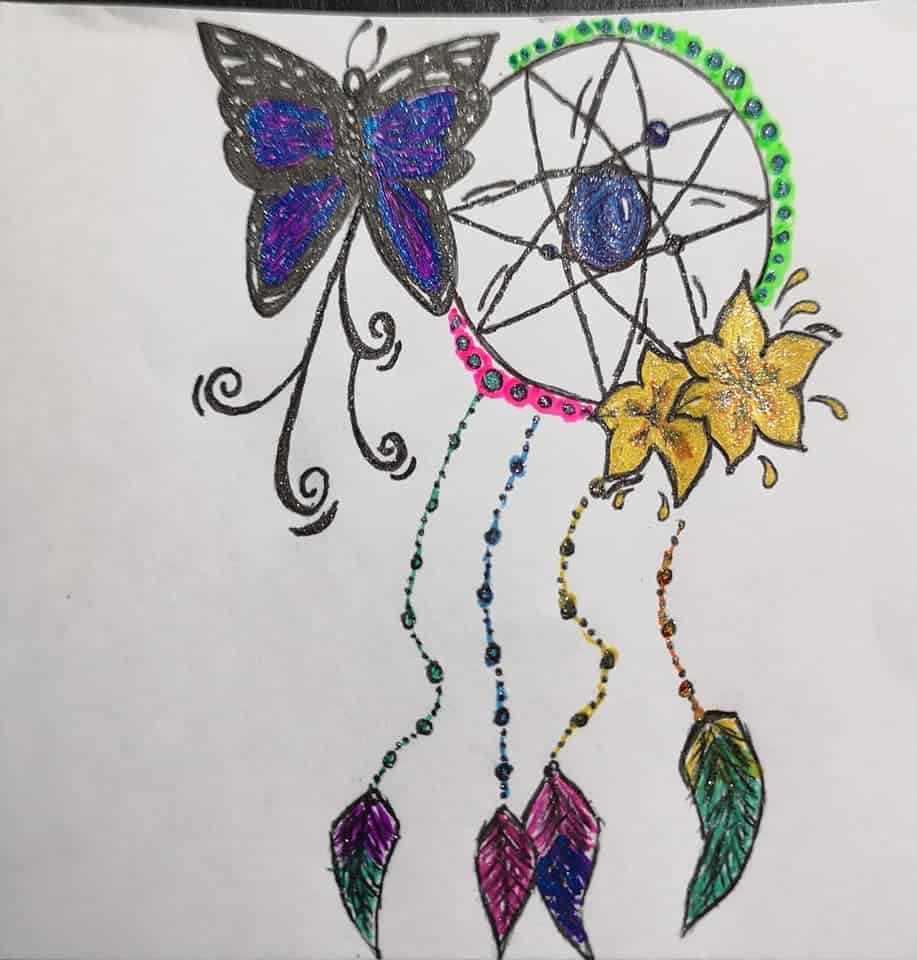 Deepa Naik
This is free hand drawing of an existing picture that I saw… I'm fine with seeing something 1 dimensional and drawing it – I'm no professional but I do OK. I still struggle to draw, and doodle from my imagination and with the finer detail. Still, this took me to a happy place.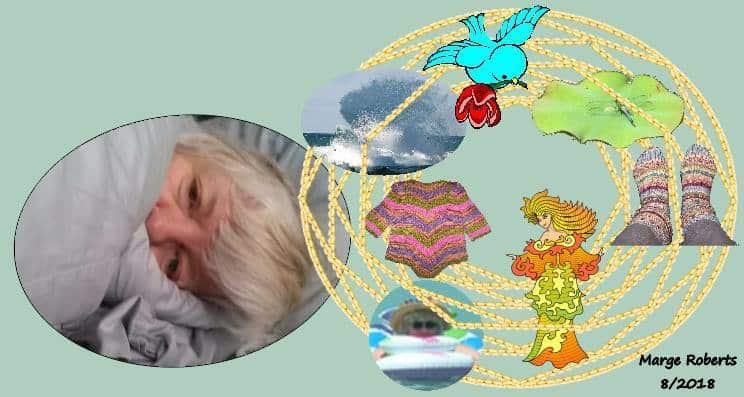 Marjorie Roberts
Catching happy dreams!
---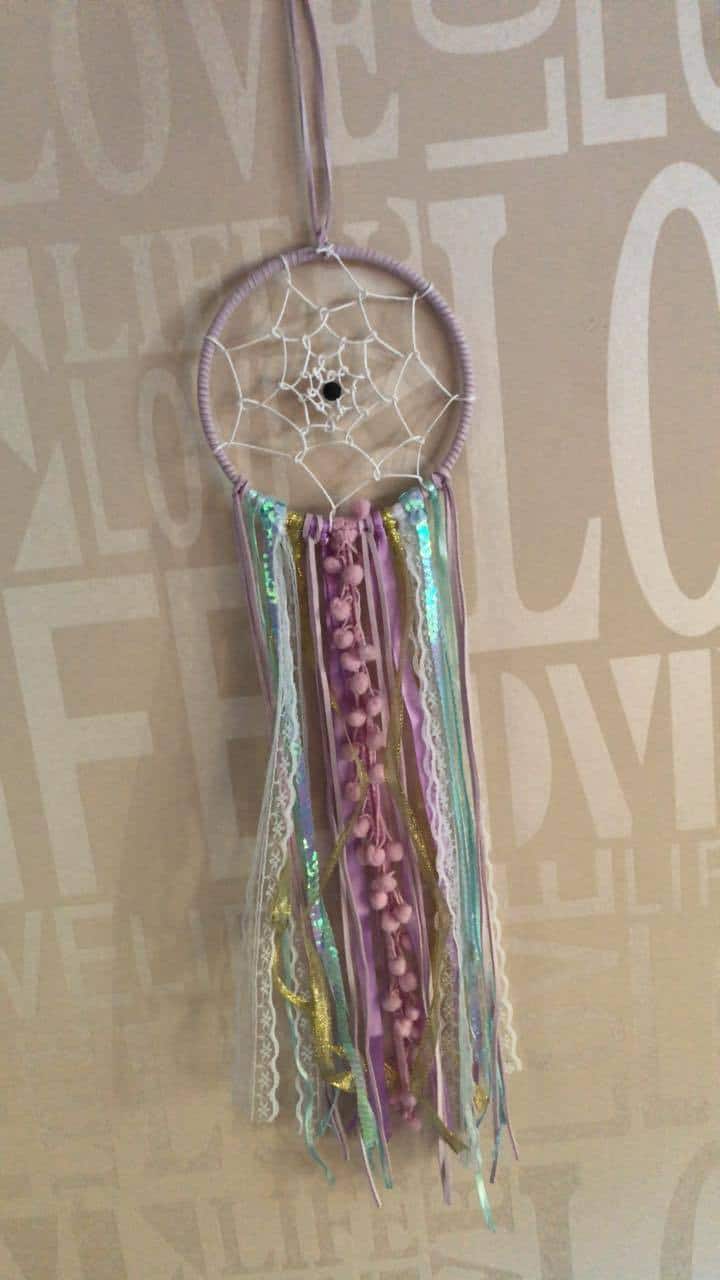 Tabitha Ramsay
I selected colours that would go well in my bedroom.
I put a lava bead in the centre so I can add some incense to it. Really enjoyed making it and have a new found respect for those that make complicated designs- harder and time consuming.
---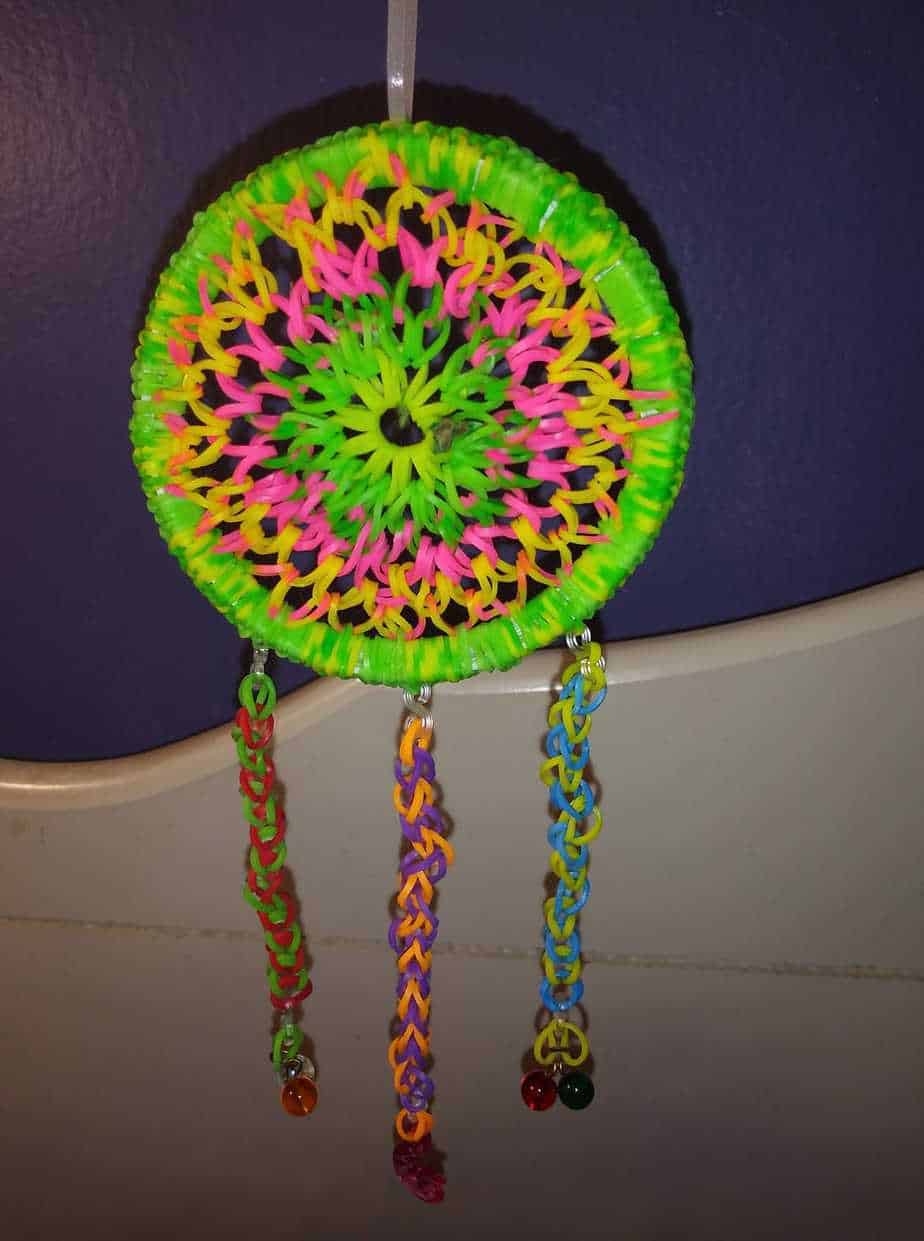 ---
Savvy Corbett
My entry for this week's activity. I like to surround myself with colour and texture. I work with paint, pastels, pencils, pens, etc – but my favourite is yarn. I am inspired by nature. By its abundance and variety. It's colours, textures, patterns, and most of all by its constant ebb and flow. It reminds me that no situation or emotion is forever.
---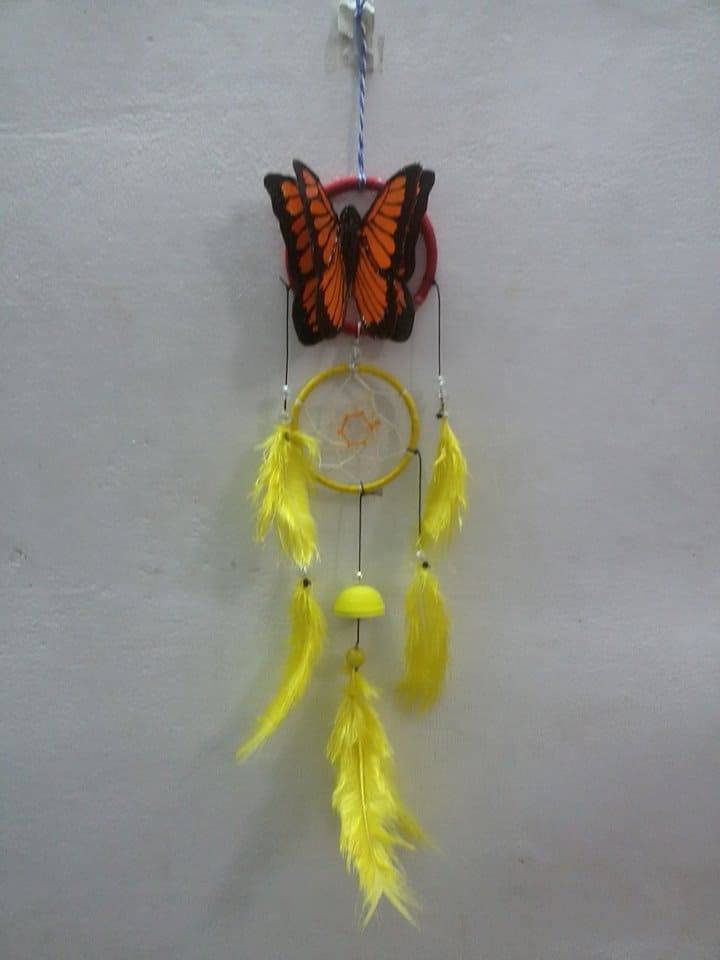 Vijitha Retheesh
This butterfly represent my dreams as they always spread colors.
Yellow feathers represent sun and my thoughts that always spread light everywhere. ……
---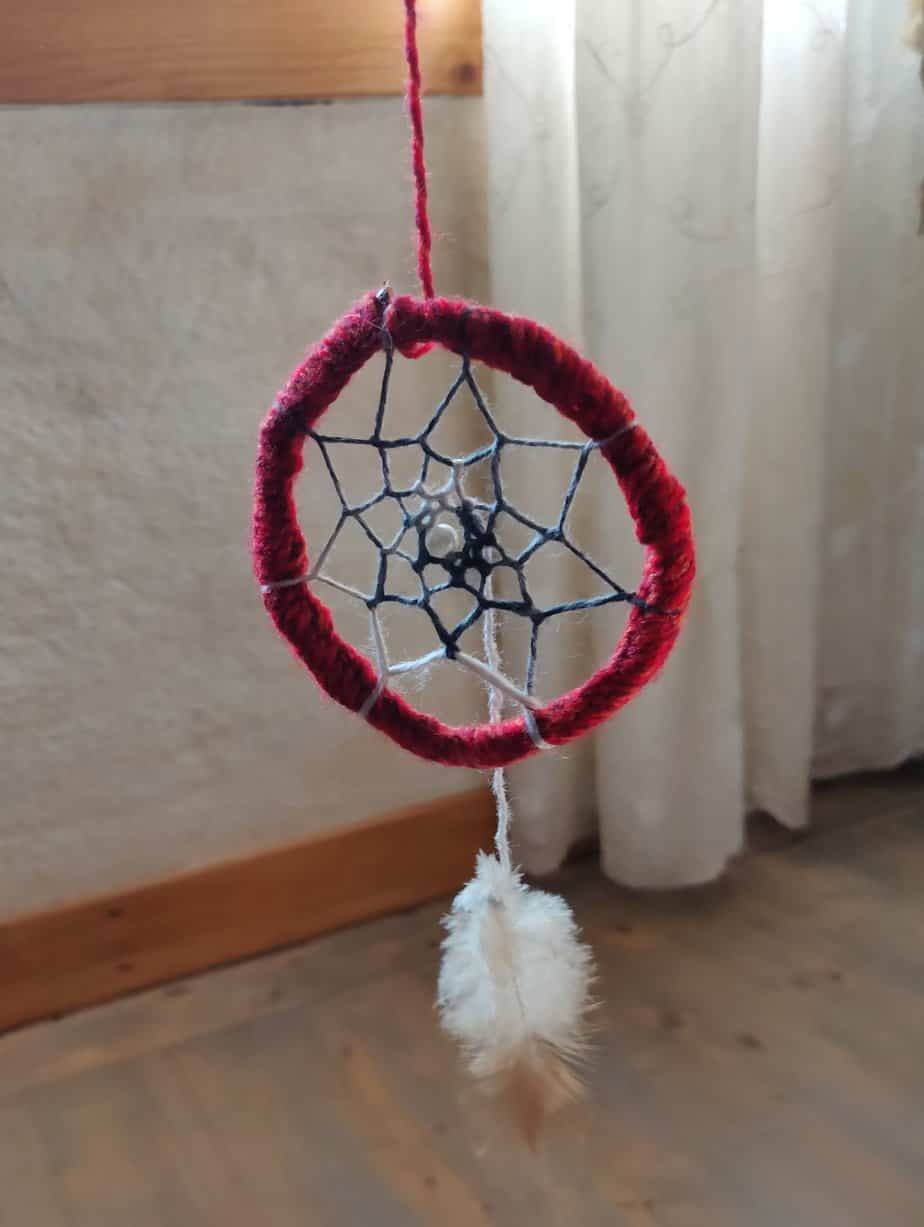 Ethel Espenberg
This dream catcher represents that small is beautiful!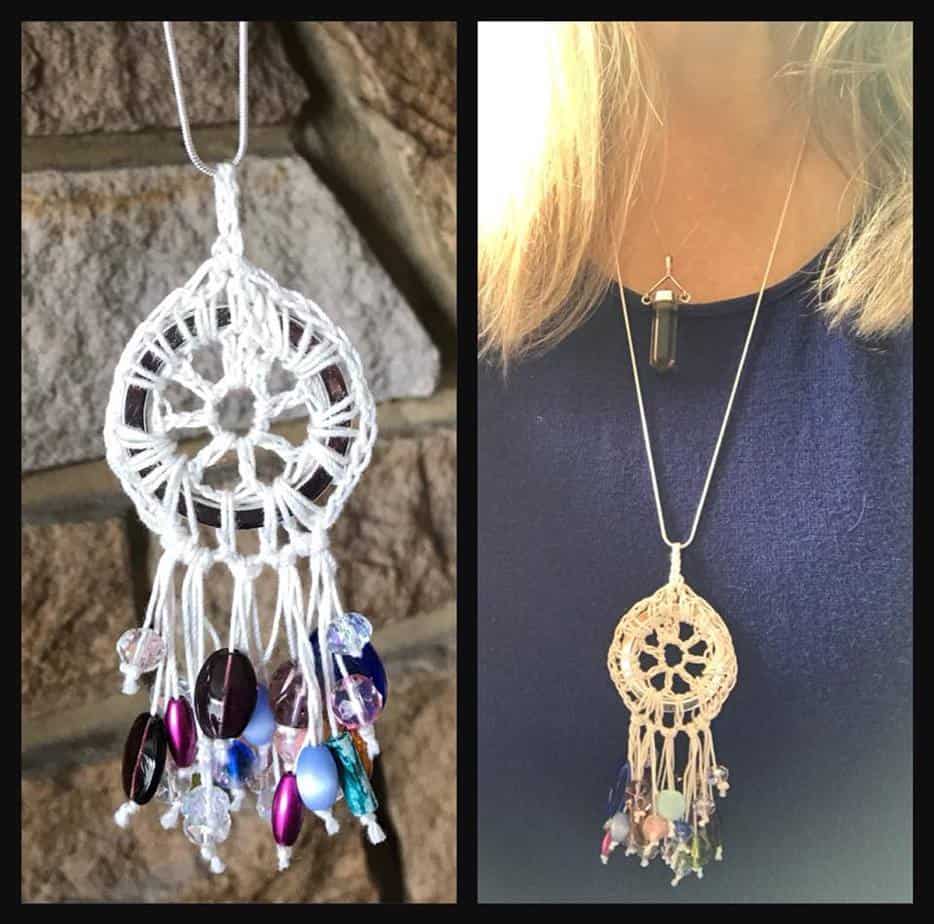 Helen Salter
I created a wearable dreamcatcher. Rather than catching the good dreams while I sleep, my take on the one I created it is that it catches my good dreams, wishes, thoughts and intentions while I'm awake and going about my day. An amulet of sorts. It bounces off unproductive thoughts and holds onto productive ones. Well that's the idea. I used crochet to make the centre and then use crochet to attach it to the key ring .. then added fringe beads and a long chain.
---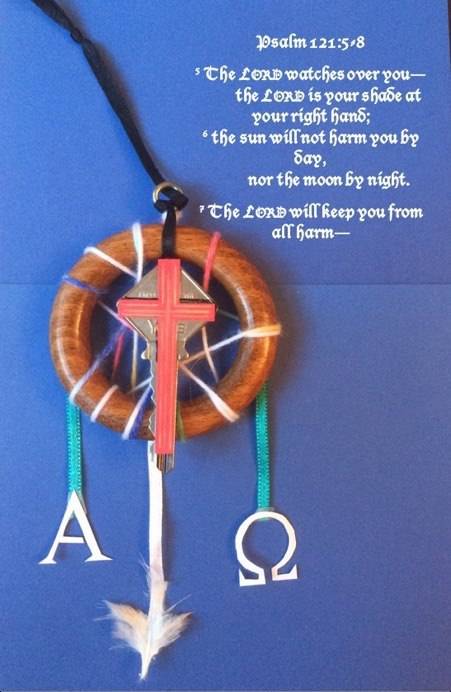 Helen Lewis
My interpretation of a dream catcher – the key for me is Jesus, who defeated death and darkness …so no need to fear the night, as Psalm 121 says. Jesus, the Light, shines in the darkness and the Bible says he has promised to be with us always by His Spirit.
---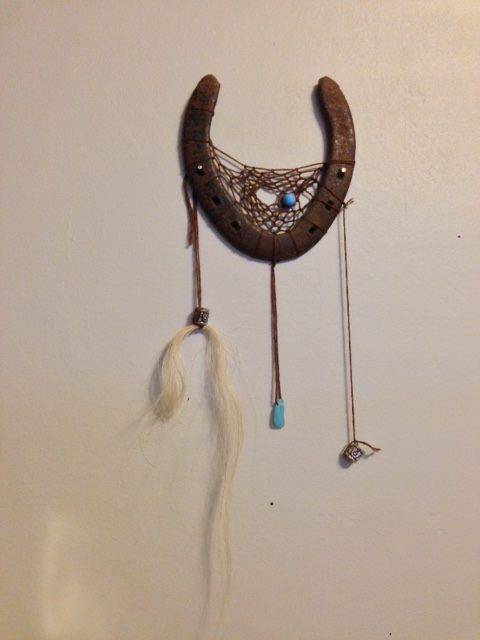 Barb Haffner
This dreamcatcher represents the relationship I have with my horse and the life lessons he has taught me. The beads remind me of the up and down flow that happens when we're learning, the blue color is my favourite color, the hair from his mane, the web has many interpretations.
---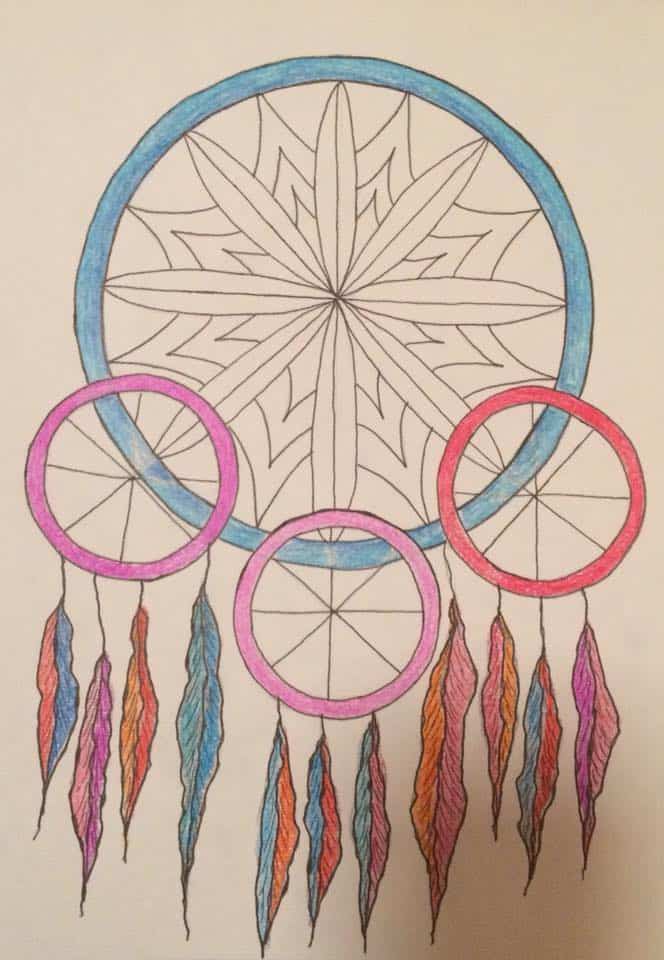 Sharon Matthew Bushloughran
My dream catcher, using colour pen & fine point pen.
---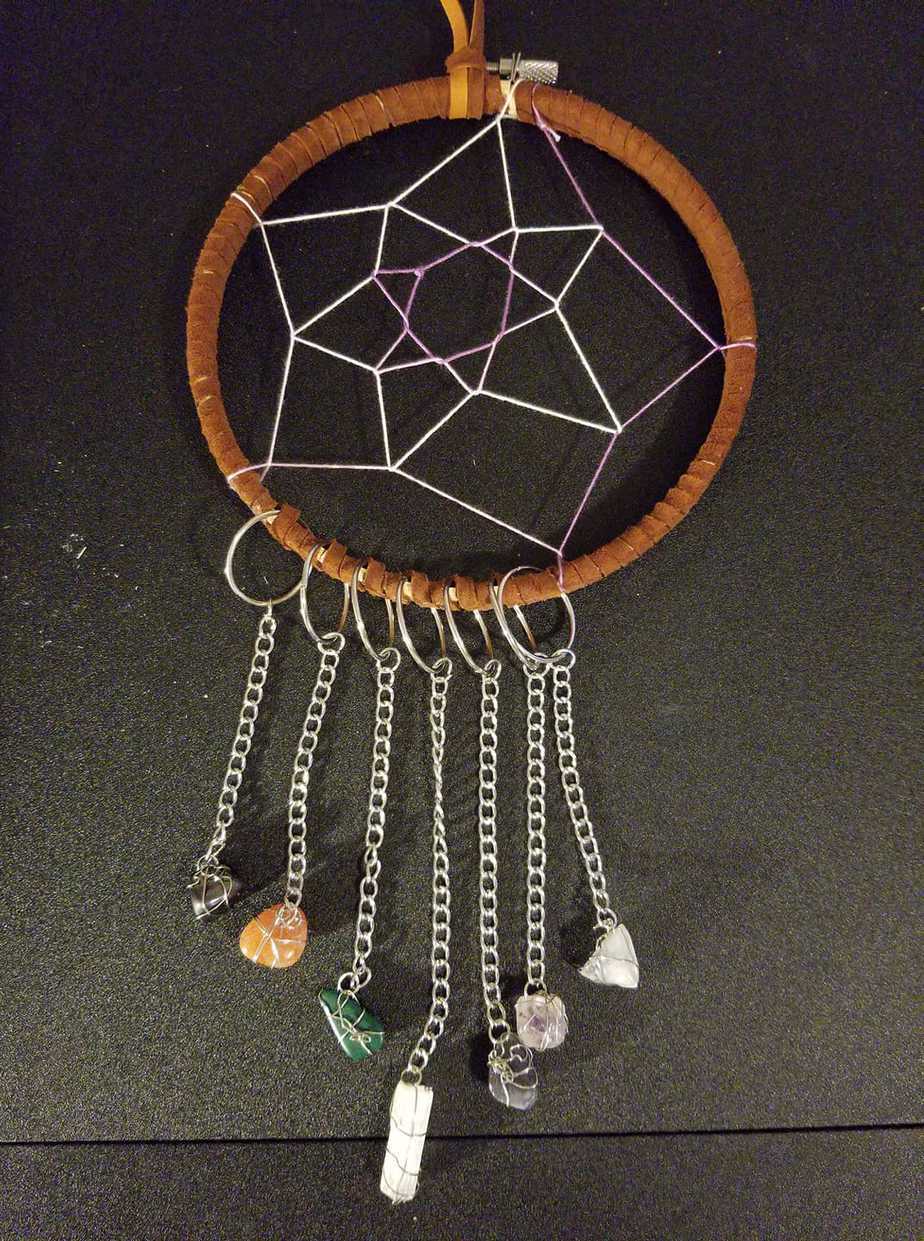 Lauren Clough
My dream catcher for this week's project. Instead of feathers, I used crystals I bought a few weeks ago for another project, but that project just didn't work out. I thought they were perfect for this project. It's like a hanging Chakra.
---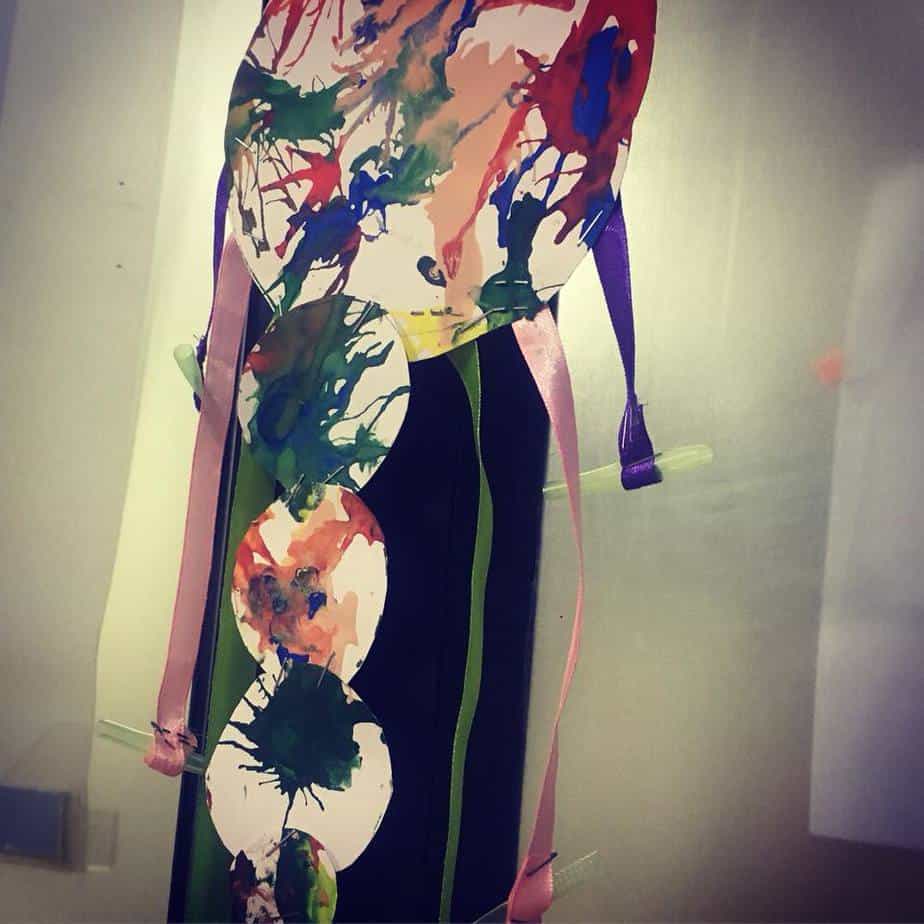 Heena Sahi
I did straw blow painting on a paper simulating to blow out the stress completely and have used the straw pieces used for blowing as small nick naks hanging for my dream catcher indicating what is broken can be fixed somehow somewhere.
Lastly the dream catcher is hanging high up that's to symbolise that "we should always hold our head high and dream endlessly as we all our dreamers in this universe at the end".
This summarises my thoughts and mental make up while making this dream catcher. I hope you like it.