AMY SYRAD-HARDY
---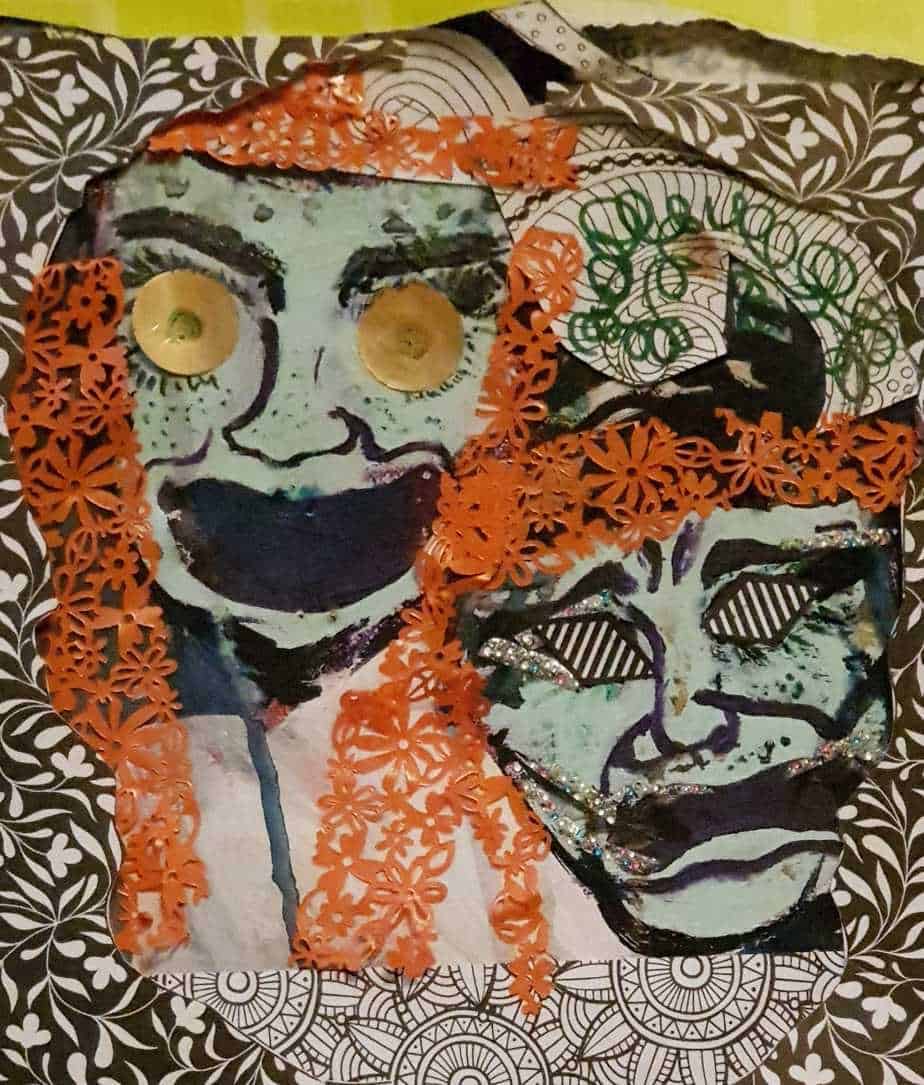 ---
---
CONGRATULATIONS TO OUR COMMUNITY PROJECT WINNER
---
---
"INTERTWINED HIDDEN FACES, DISGUISING THY RECOVERY, MADNESS PREVAILS"

---
About The Project…..
Upon enrolment of our courses, all of our students are invited to be part of our exclusive Art Therapy community.  Here is where you can share and support one another as you experience your own Art Therapy journey.
This weeks community project was titled: "Create A Mask Representing Your Inner and Outer Self"
Using any form of materials and in the style of your choosing, create a mask that represents your inner and outer self.
The outside of the mask should represent the parts of you that you are comfortable to share with the outside world.  The inside of the mask should represent all those parts of you that you keep private and don't share so readily with people.
The purpose of the exercise is to explore the various aspects of your personality and character so you can better understand yourself.
After being voted the winner by her classmates, we invited Amy, to share with us, her own art therapy journey and her experience of studying with us.
Artist name:  Amy Syrad-Hardy
My journey as an artist:
Since GSCE A which I thoroughly enjoyed, although I did not follow on this path initially with educational training, Art, Creatively, self expressions and works has been a big part of my daily life. I had some Art Therapy as a client over some difficult years. I followed the path of Psychology & Sociology as a BA (hons) at University with a view/ambition to becoming an Art Psychotherapist. I have completed a Post Graduate diploma in Art Therapy.
I need and would like more practice with techniques and guided Art tuition. After completing various training around counselling and Managing difficult and aggressive behaviour, I am now attending a weekly Art Group in my local Village and I am since February, running a Creative Arts Group monthly for a Charity supporting Victims & Survivors of Childhood Sexual Abuse.
I have applied to do a BTEC Art Foundation starting this year and really hope to embark on my dream, part time study training as an MA in 2019 October to Qualify as an Art Psychotherapist.
Art has saved my soul through darkest times. Brings me comfort and fills my time meditatively and with passion. With a chronic Pain condition and complex PTSD, Art is my distraction and my life. I must give to those in need, as I have been blessed to have had myself.
Title of your artwork:
"Intertwined hidden faces, Disguising thy Recovery, Madness Prevails"
What was your inspiration behind your winning piece?
The inspiration was to challenge myself through Art Therapy, creating a piece facing myself felt this challenge of creating an image of our inner and outer selves through making a mask hugely challenging. To actually look in the mirror within so to speak, inspired me to show the real. The real of how I feel I am seen. The words I believe about myself. Felt really releasing and inspired by bravely exposing myself using the collage and painting effects to add this powerful challenge to show my Self. Inspired to face this challenge with truth, very revealing to myself. This was a great community project. Thank you.
What's your favourite medium and style of art?
Painting mainly with acrylics. Acrylic pastels, pastels are getting easier as is painting with water colours. Working and making Collages is my main…Creating wild and quirky images using recycled materials, natural materials I find walking and pieces of things I seem to collect and find around the house. Bringing them all together. Would like more practice with drawing, currently working on this with and in the Village Art Group.
Courses I'm enroled in:
– Art Therapy for Self Healing
– Art Therapy for Self Exploration
– Art Therapy: How To Use Art Therapy With Others
Thank you so much. Humbled. Really enjoying and learning from Libby's Courses.
VIEW OTHER STUDENTS ARTWORK RELATED TO THIS PROJECT
---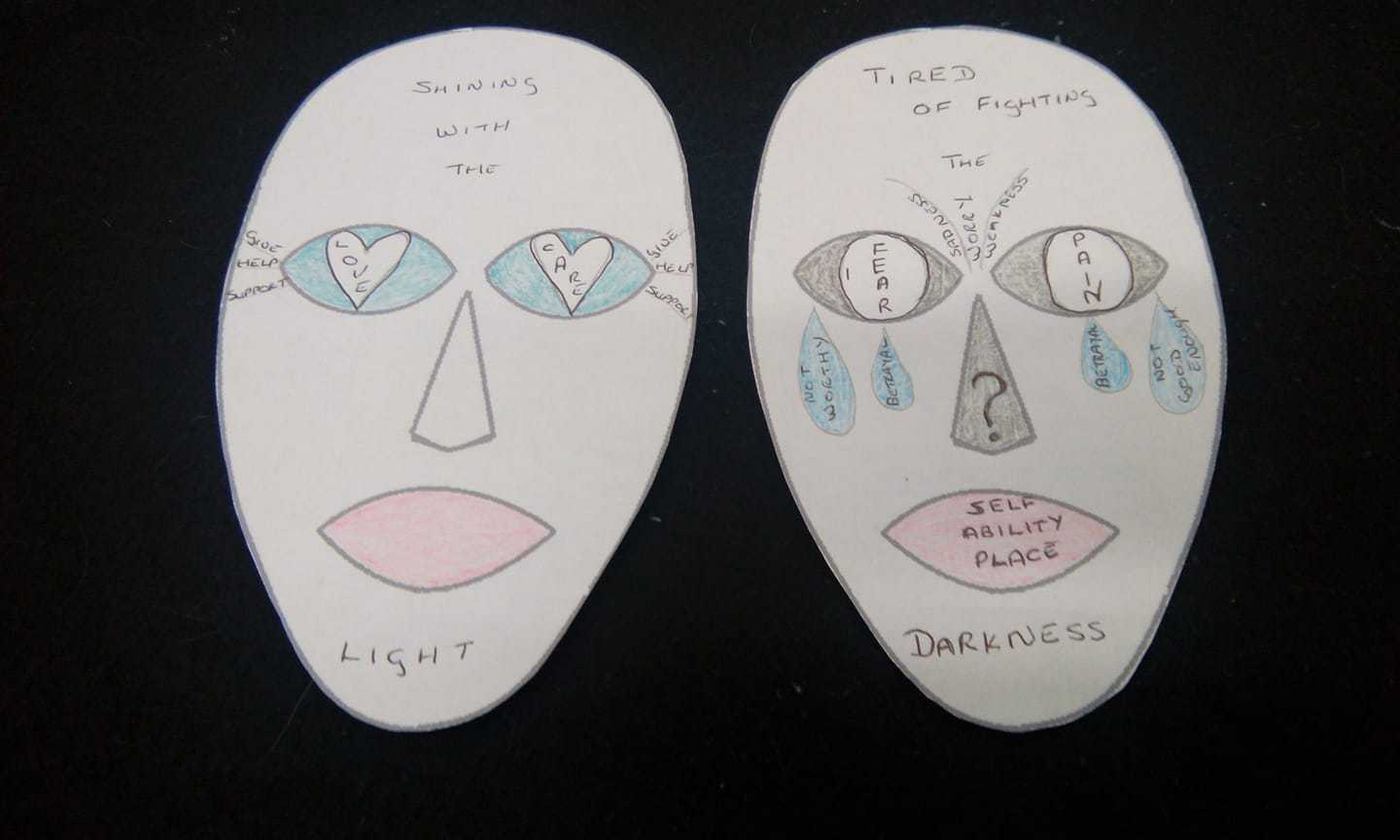 ---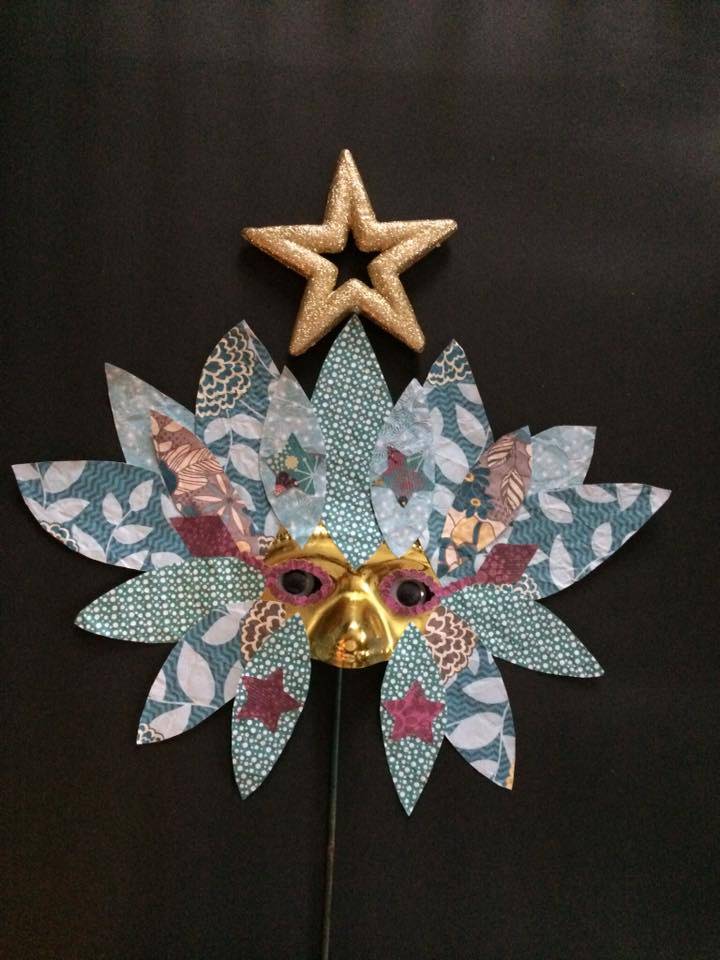 Sharon Matthew Bushloughran
Celebration of me living in a city that has Mardi Gras my mask represents the joy in my soul.
---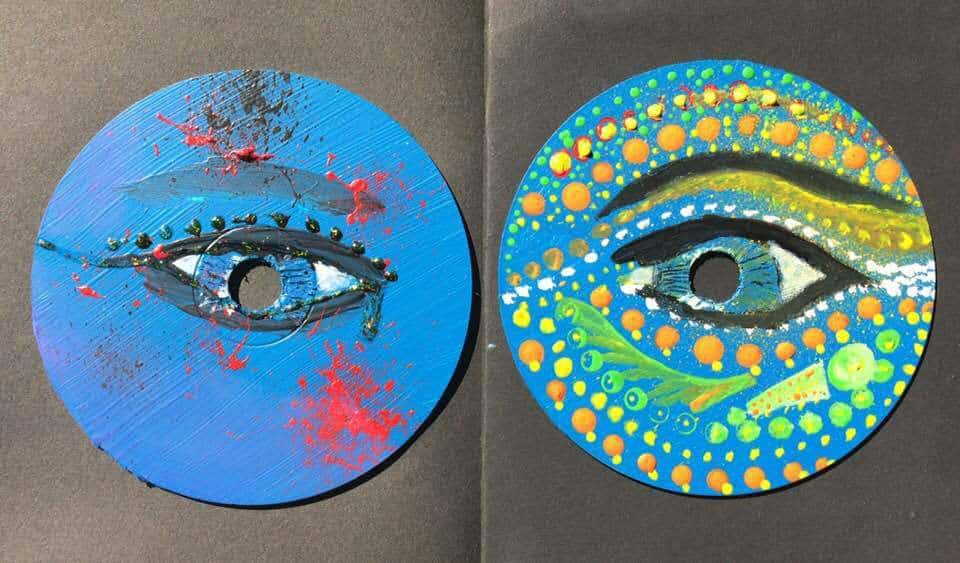 R Gillmann
In general, I try not to focus on the negatives too much and rather spend more time and energy uplifting and focusing on the positive side of the mask. However, it's also a matter of which lens I seem to be looking through sometimes… even the more 'painful' side has sparkles in its tears…
---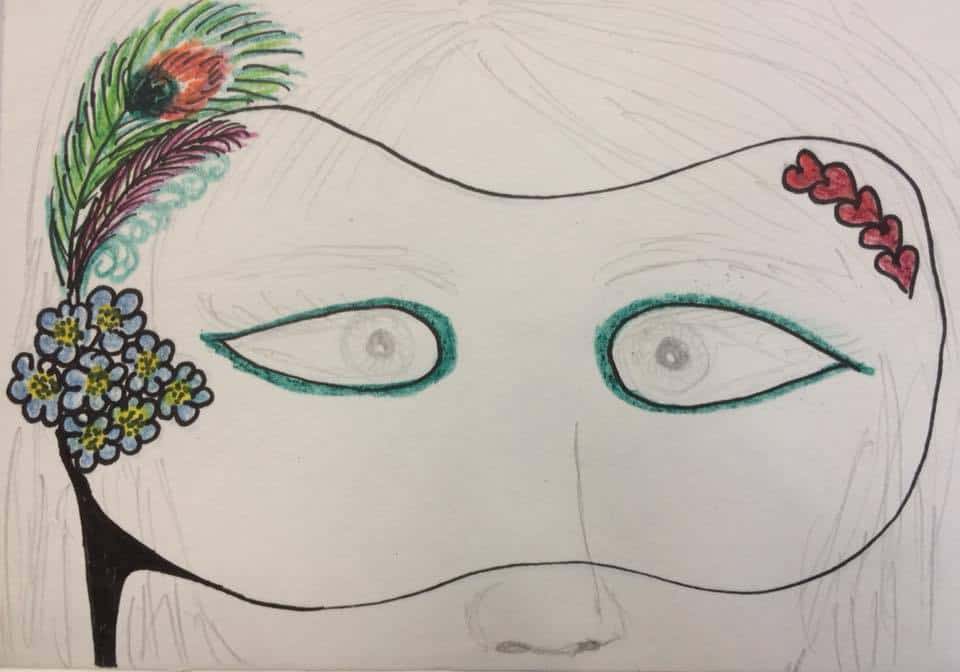 Helen Lewis
I haven't really had the time to do justice to this project…but here is what I've done. The outer surface tries to care for others ( expressed as hearts) and enjoys the beauty of creation and creating…and I guess 'doing'! I'm not so good at just being. Most of the mask however is transparent as that is what I try to be…what you see is what you get, so not much of a mask really…However, hiding behind the few things on the outside is where the questions and the Pandora's box is…that contains a few things that only me and my Maker will ever know about…the things I don't want out of the box as I don't know what would then occur. And there is also a song, many songs , inside my head behind the hearts…music is constantly swirling around on the inside, in a good way.
---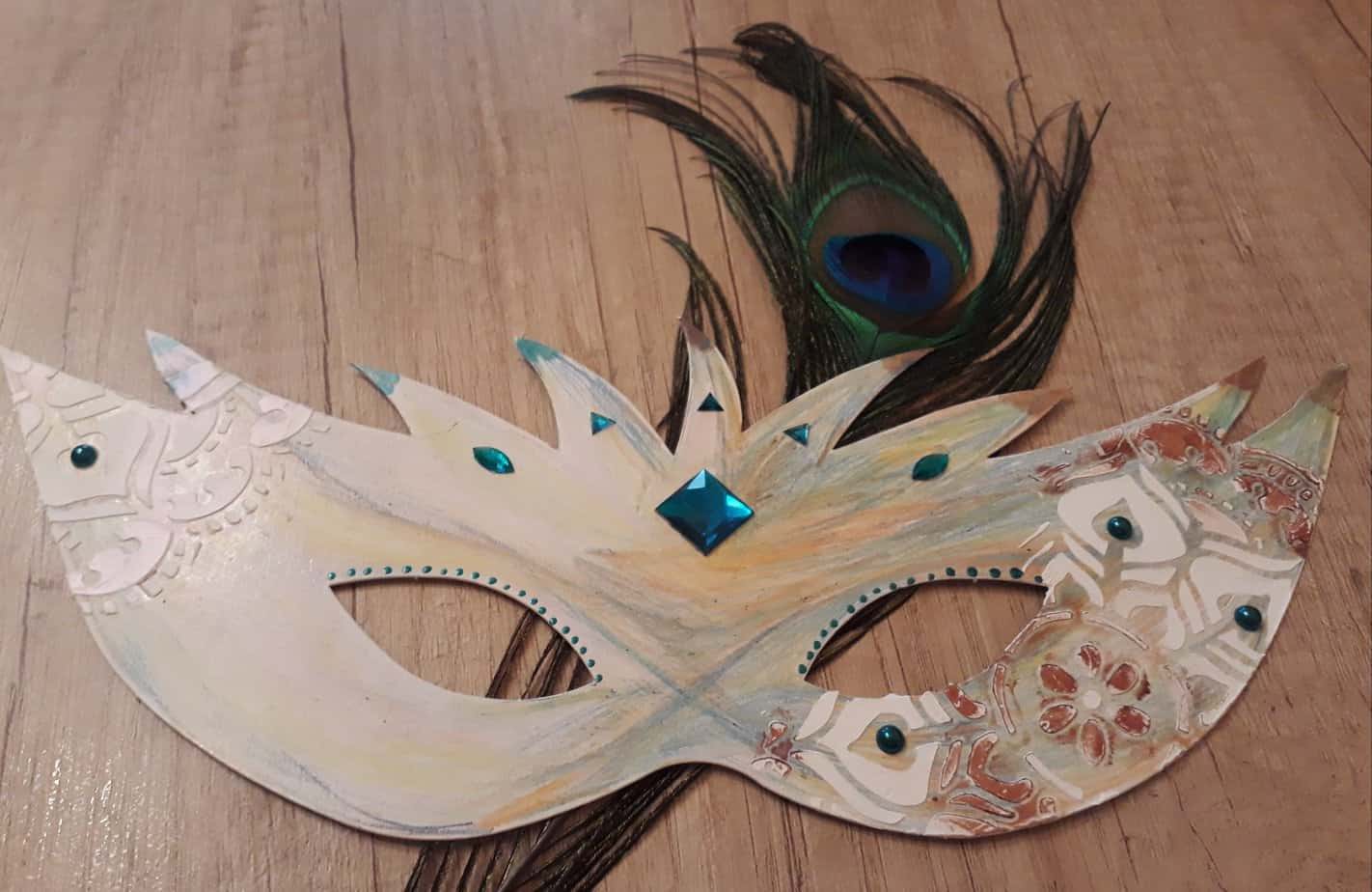 Geri Avramova
This is my inner and outer self – the more bright part being the outer self.
I have used some stencils and mixed media to express the vivid emotions I posses inside and outside.
As I was developing the project, I felt that my inner self is somehow soft and sensitive…as if I have left my gentle part somewhere beneath.
Or may be, I have buried some fragile and tender part of me deep inside…and it's not easy for me to show it to everyone?!
I had a very strong experience while doing this!!!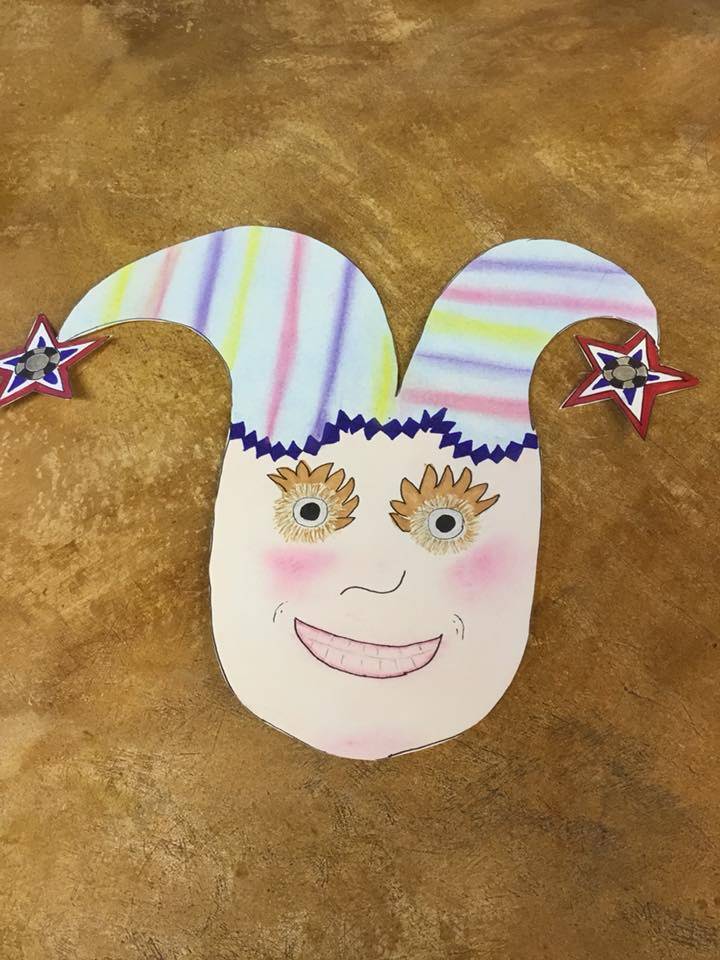 Debby Meyer
This weeks mask.
---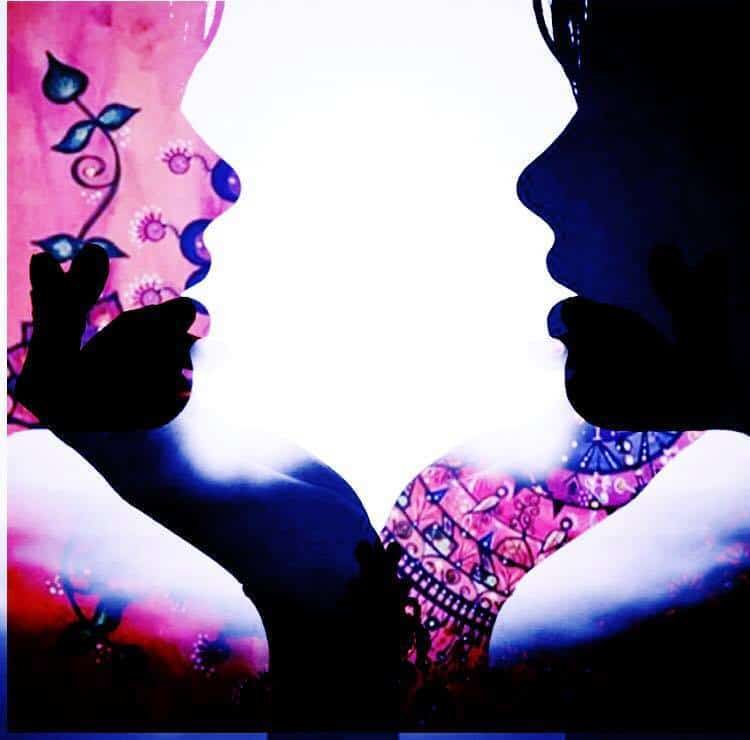 Helen Salter
The Mask. I hold my creative mask for the world to see like a trophy. Its the mask I show the world, color, fun and creativity. Underneath the mask hidden are the shadows self pain insecurities. I don't want the world to see under the mask. Yet I wonder if they are also reflected in the mask I hold so high for all to see. It's all me.
---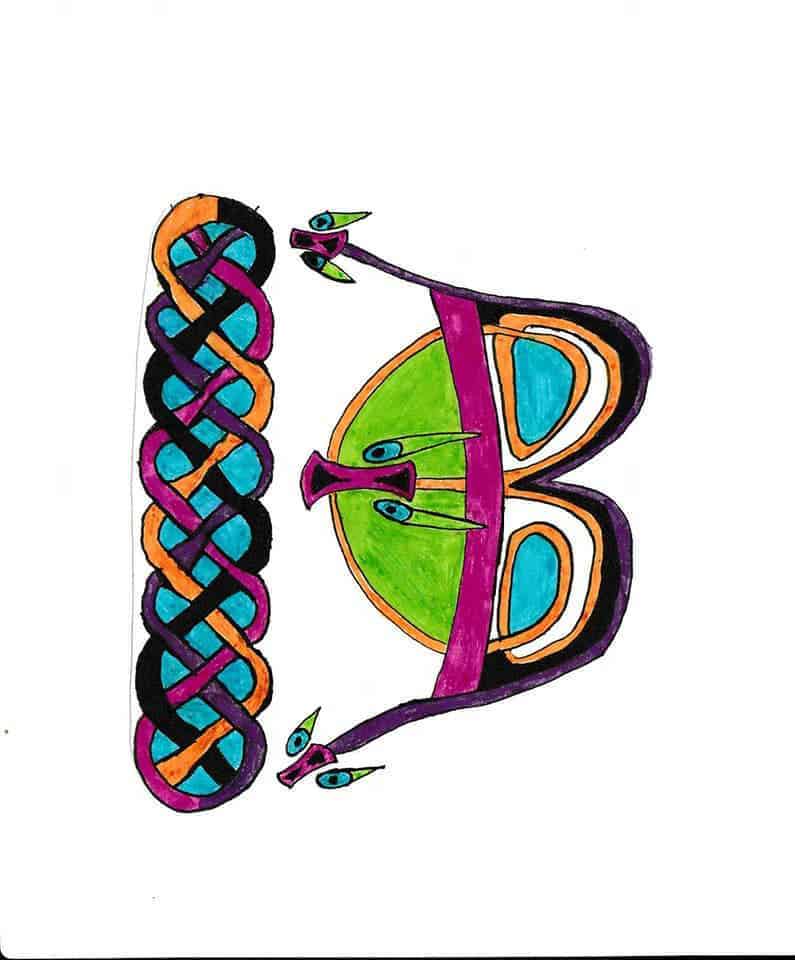 Mark Jackson
Initially i was working on the letter B for week seven, but i ran out of time. My wife said turn it on its side and it is a mask. So my entry represents my Celtic/Pictish Heritage. I have shown both versions, above and below.
---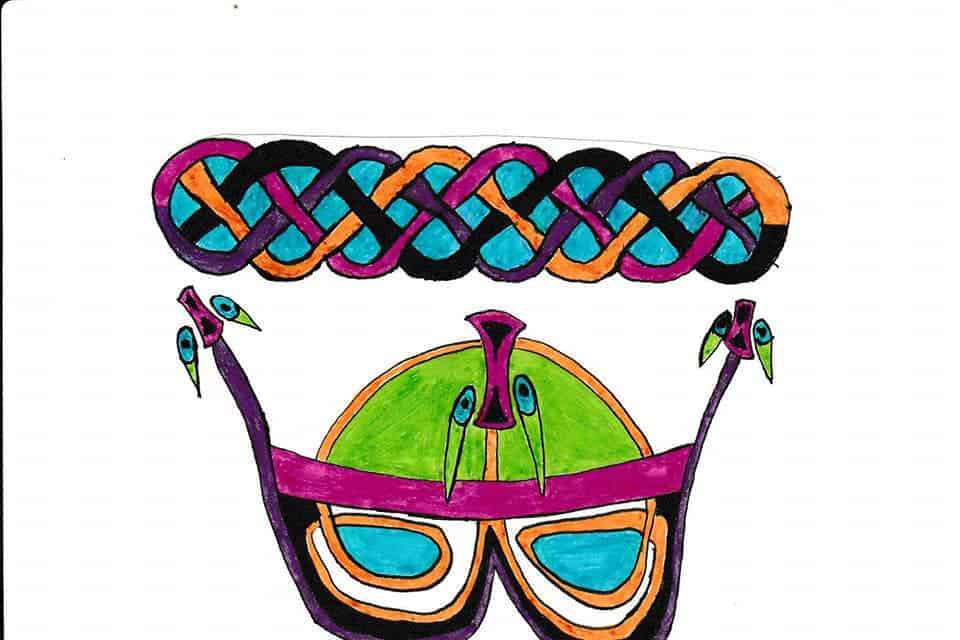 ---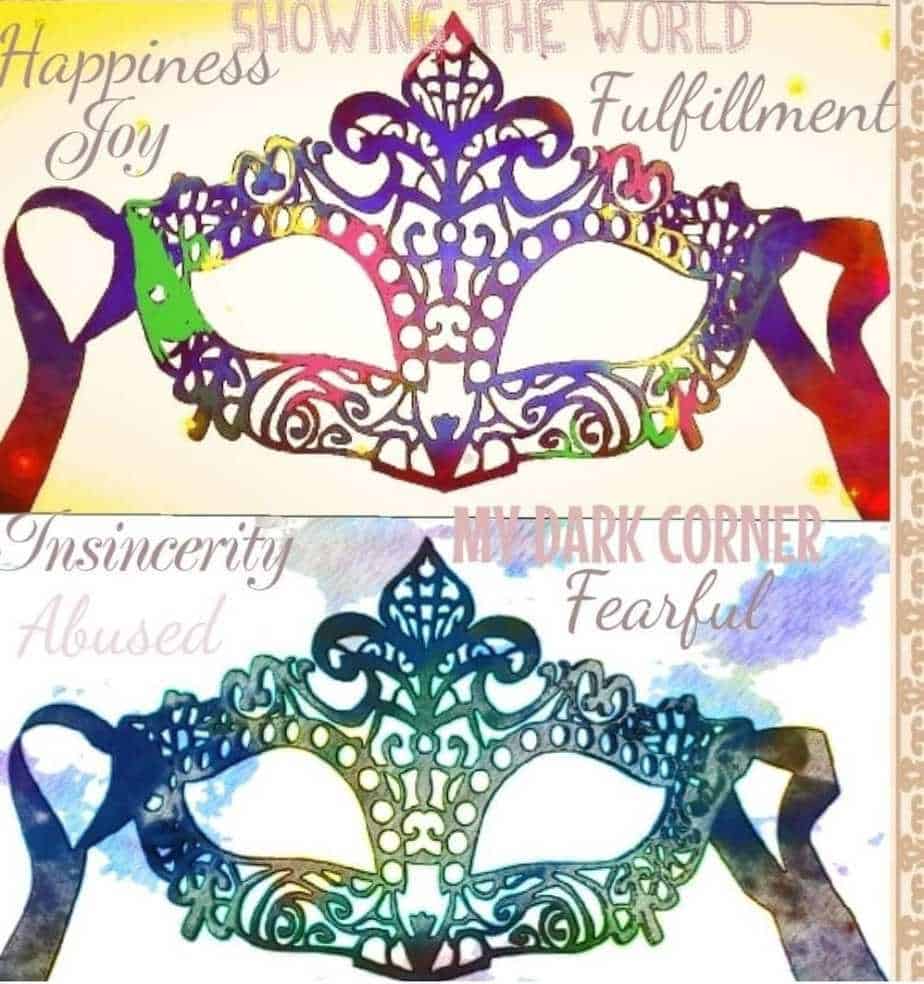 Sharron Rosa Giles
Finally… But it's probably TOO LATE!
Anindita Dwivedi
My Inner mask is a little more wild , has more questions, little less organized, less calm than my presented outer mask that looks more happy , calm and relaxed.
I believe that by consciously practicing being calm, positive and a cheerful disposition I can gradually and eventually bring the two close together. I am striving to achieve a merger and I feel I am pretty close.
There is one basic similarity between the two, they are both kind and compassionate , they are both beautiful in their own unique ways 😊❤️
---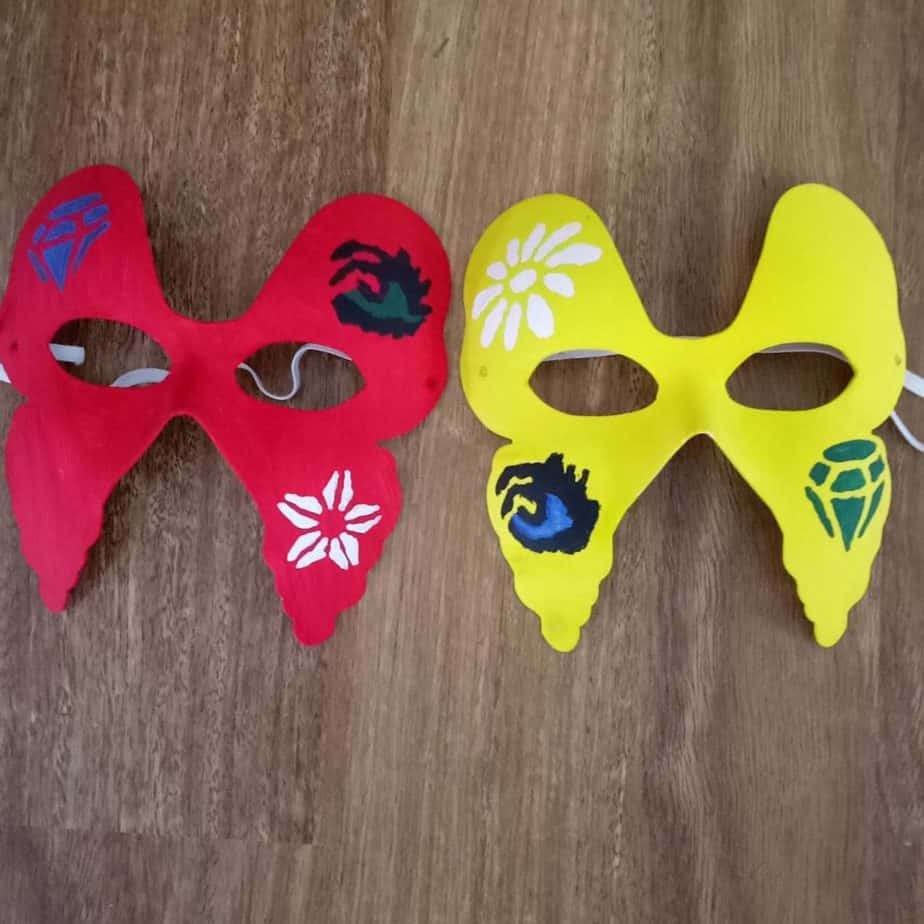 Catherine Pitkin
Each colour used on these masks represent flags associated with my family background, the diamond symbolises different aspects of personality, the eye symbolises intuition and psychic abilities, the star because we all shine in our own way and the flower because I was born in the late 60's. The red mask is the inner me and the yellow the side most people see.
---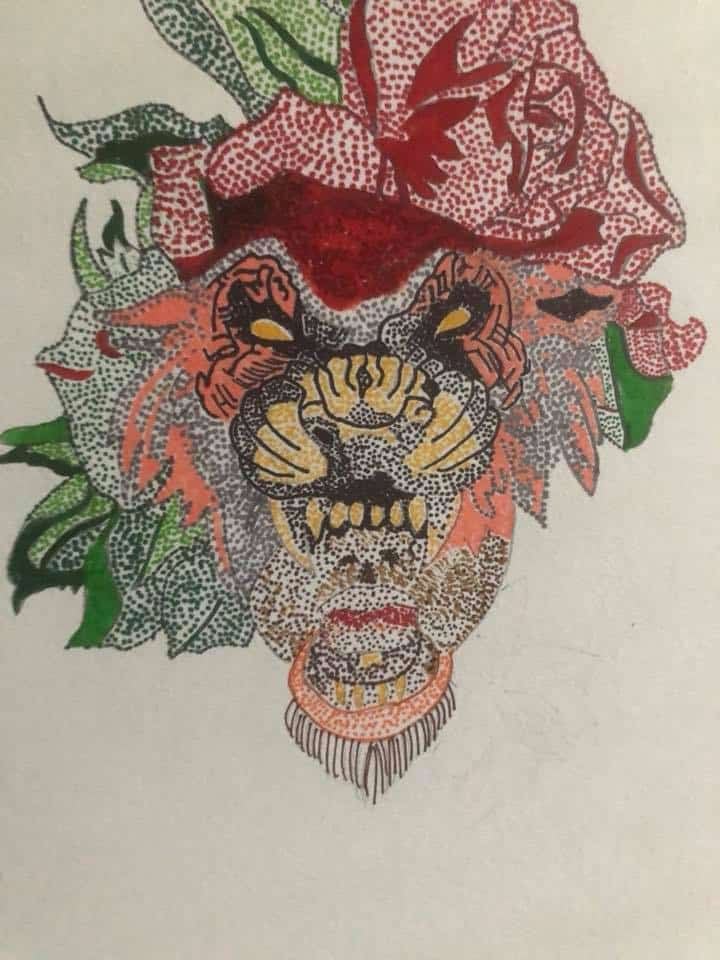 Judith Belton
First non-digital attempt in a long time. Also first try at mixed media with dot work and solids. My outer mask can be that fearless lion to defend those that I love and the special needs students that I work with. The lion has a hat of roses to represent my inner softness: delicate and beautiful. Red was chosen because I am at a place that I truly love and appreciate my wonderfully authentic and flawed self. No more search for perfection!
---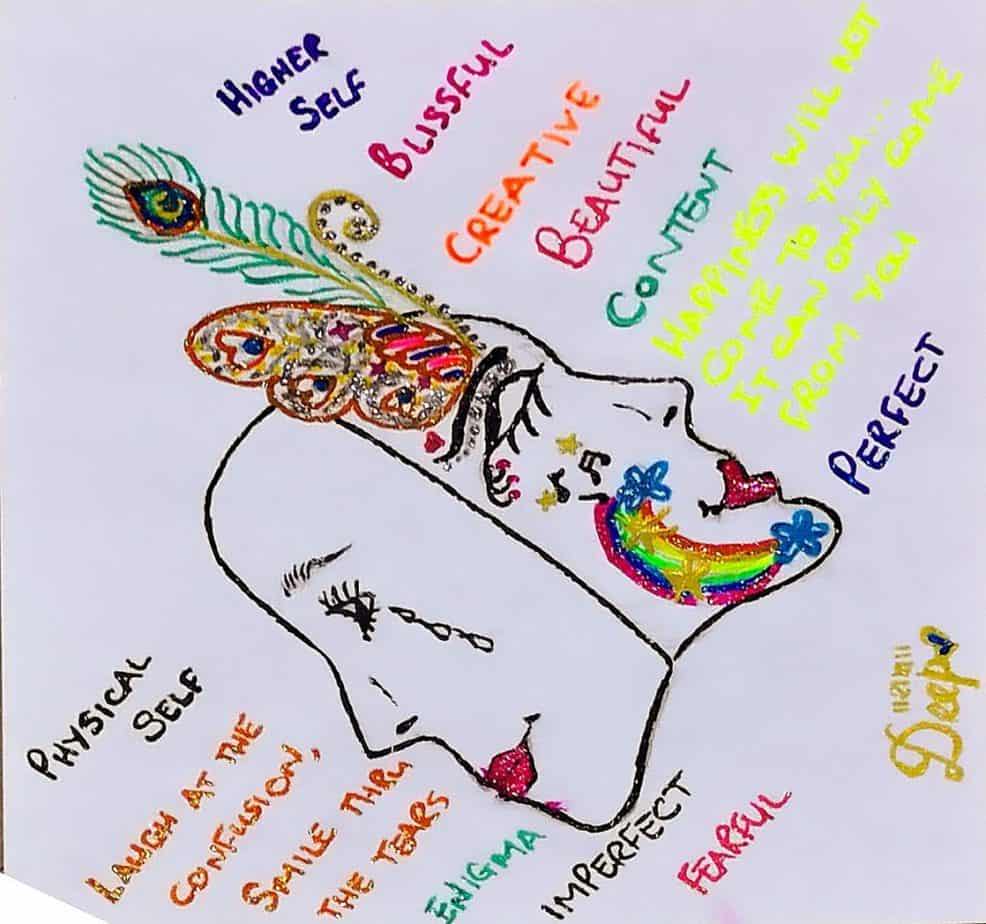 Deepa Naik
✨
Note to Self . . . . . .
"We are not human beings having a spiritual experience. We are Spiritual beings having a human experience."
~ Pierre Teilhard de Chardin
✨